Post By: Angela Parlin
Do you know who you really are?
A friend told me recently that her Mom used to have her stand in front of the mirror and recite truths about who God says she is. Isn't that great? I'll save it in my parenting toolbox, but the truth is, I've needed it myself.
Not long ago, I knew certain facts regarding who God says I am—but I didn't feel like they were true.
Have you been there?
There's an identity crisis, within the church. It begins with our understanding of God, and our understanding of who we are in light of Him.
We can name details about God, but do we really know Him?
And if we don't KNOW the God who created us,
then how do we know our own selves?
I grew up in the church, so I learned numerous truths about God and about myself through the years. I also live in a world where I heard an abundance of lies about us both. There were those labels people gave me, those labels I gave myself, and the experiences that told me things I couldn't forget.
But more often, I was oblivious to what was going on around me. The world and the devil did their thing, and I failed to see the false and fiery arrows shot my way.
While my foundation was forming,
the enemy worked to confuse my identity.
I didn't know deep down in my heart who I really was–because of Jesus Christ. I didn't live confidently out of the truth.
When you don't have a firm grasp on who you are in God's eyes (your identity in Christ)—
start with who God is.
Find Him in the quiet. Seek Him through His Word. Get to know Him more.
Meditate on who God is. Focus on who He says you are.
Look to the Word–not to the world–for daily affirmations.
Let Him change your view of Him and your view of you.
Let Him set you free from the lies that hold you down.
In time, God will transform your mind completely, giving you a whole new view.
You will understand who God is and who you are in light of Him.
May these scriptures be a starting place, pointing the way to the truth.
The Lord is my strength and my shield; my heart trusts in Him and He helps me. My heart leaps for joy, and with my song I praise Him. Psalm 28:7
The Spirit of God has made me; the breath of the Almighty gives me life. Job 33:4
Before I was born, the Lord called me; from my mother's womb He has spoken my name. Isaiah 49:1b
She gave this name to the Lord who spoke to her: "You are the God who sees me." Genesis 16:13a
For we are God's handiwork, created in Christ Jesus to do good works, which God prepared in advance for us to do. Ephesians 2:10
But you are a chosen people, a royal priesthood, a holy nation, God's special possession, that you may declare the praises of Him who called you out of darkness into His wonderful light. 1 Peter 2:9
Get all Purposeful Faith blog posts by email –

click here.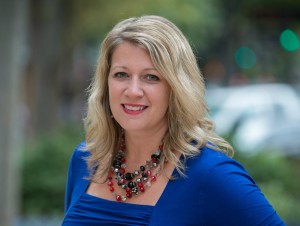 Angela Parlin is Dan's wife and Mom to 3 rowdy boys and 1 sweet girl. In addition to spending time with friends and family, she loves to read and write, spend days at the beach, watch romantic comedies, and organize closets. But most of all, she loves Jesus and writes to call attention to the beauty of life in Christ, even when that life collaborates with chaos. Join her each week at www.angelaparlin.com, So Much Beauty in All This Chaos.