The sun shone bright in the kitchen the day I realized I had no one I could call. Standing at the counter, slicing a pear into bite-sized pieces for my 10-month-old firstborn, I'd instead sliced my finger. I stood silent at the sink, letting water wash over the wound and watching blood swirl in the basin. After bandaging my finger, I reached down for my son, placed him in his highchair, spread the pears on his tray, and in what seemed the very next moment, I woke up underneath the kitchen table. I had fainted, and it felt as if my brain was rebooting after being switched off. My body felt clammy and weak, and as I lay there, immobile, my initial panic subsided as I heard the happy gurgles of my boy, safe with his pears.
It was then that the thought intruded: Who will I call to come help me? I did not have an answer, because I did not have a friend. The knife had opened my finger, but it seemed to have opened a far greater wound, a wound I'd tried desperately to ignore, hide, and resist–the wound of loneliness.
At that time, I was a young pastor's wife, a young mother, and young in my understanding of God's grace. When I picture myself in those years, I think of myself in two places: in my home and all tangled up in my own head.
After college, I'd waited for friends to appear, as they'd appeared in every other era of my life–through youth group and band and softball teams and housemates. And they, in fact, hadn't appeared. I felt as if I'd forgotten how to do friendship and wondered if I was no longer friend-able. In my insecurity, I remained isolated, both in my home and in my head.
I remember hoping another mother would invite me out after morning Bible study. I remember desiring one of the older pastor's wives to take me under her wing. After my pear-eating boy received a devastating diagnosis, I remember wishing others would intentionally step into my shoes and walk with me, tell me what to do, or care for me in some way.
I was lonely for a friend.
Many women are, I know this now. Many feel forever on the outside. Many have been hurt by other women, so they intentionally stay on the outside so as not to be hurt again. And many feel their genuine attempts at friendship have produced little fruit.
Friendship is not as simple as we've been led to believe. But here's something else I now know: loneliness isn't always as complex as we've been led to believe either.
Sometimes Loneliness is a Gift from God.
Whether we're new to a neighborhood or a church, whether a good friend has moved away or died, or whether a once close friendship has shifted, any type of change or separation can arouse a sense of loneliness and longing in our hearts. When we have them, we long for healthy relationships and happy life circumstances to remain static. We long for deep community and a sense of belonging. We long for the good old days when friendships came easy and we could enjoy those friends without all the adult responsibilities and burdens mixed in.
Longing is not a misplaced desire. In fact, the longing for friendship is a good one. How we pursue or respond to that longing, however, is important. We must remember that perfect relationships and perfect community and perfect circumstances do not exist on this side of eternity. Knowing that life and friendship will always be imperfect helps us embrace what we do have as grace and gift, even if the current gift is aloneness.
Our aloneness is a gift because it teaches us to turn our desires to the Lord in prayer and swells our hearts with a hope and eagerness for our true home with Jesus. Sometimes God may love us best by calling us to aloneness, precisely so that He can meet us intimately in a time when He has our full attention. We can be at peace with our aloneness, knowing that we have access to God and can cast all our cares and desires upon Him. Because all is gift and grace, we can wait in aloneness with eager expectation of how God might also give us the gift and grace of togetherness.
Sometimes Loneliness is Self-Imposed
Curiously, many of us seem to be standing beside one another, holding identical longings for friendship yet resolutely believing we're alone in them. The truth is we aren't actually wandering alone; we're practically tripping over each other as we grasp at our dreams of friendship that is perfect and easy. These ideal dreams of friendship are often created and watered in our loneliness, and these dreams produce bitterness as we begin demanding from others and from God according to our exacting standards.
I certainly speak from experience. As I look back at my twenties, I see a lonely girl with a stubborn wish-dream. I see a lonely girl because of the stubborn wish-dream. A friend, according to my dream, would have been in her twenties (like me), been married and had children (like me), and understood what ministry entailed (like me). At the same time, I was afraid to ask for help, afraid to initiate, and deathly afraid of being vulnerable. I wanted the gift, but I was unwilling to do anything to receive or unwrap it.
I did pray, and I did cry. And all throughout that time, God was answering. He was good to me in my aloneness; He was the friend who was constantly present. But He was also answering with real people, imperfect people (like me), who lived beside me and went to church with me and who were a few steps ahead and behind me. I see this now, but at the time I couldn't see past my wish-dream, my standards, and all my bitter longings. If I'd just looked around and if I'd just have been willing to take a few risks of vulnerability and initiation, I would have experienced the answer God was trying to give me.
That's what I learned that day when the knife cut my finger and opened my heart. It wasn't that I didn't have anyone I could call; it was that I was afraid to call. It was that I would have rather drowned in self-sufficiency and isolation than risk reaching out or admitting my loneliness.
Are you lonely for a friend? Loneliness is nothing to be ashamed of; turn to God with your deepest desires and needs. While His love is steady and sure, know that nothing is constant about our relationships with one another–there will be times of abundance as well as times of aloneness. Cultivate a heart posture that receives both aloneness and togetherness as gift and grace. Perhaps this will give you fresh eyes for the women there all around you.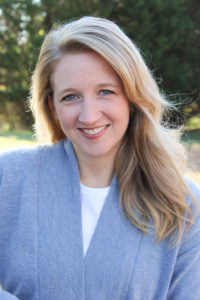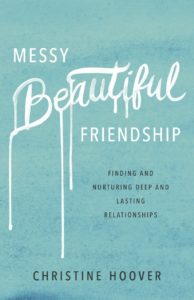 About Christine:
Christine Hoover is a pastor's wife, mom to three boys, a speaker, and the author of several books, including From Good to Grace, and her latest, Messy Beautiful Friendship: Finding and Nurturing Deep and Lasting Relationships.
When Christine and her family moved from Texas to Charlottesville, Virginia in 2008 to plant a church, she got a much-needed re-do on making and deepening friendships. She now loves to help other women discover the surprising reasons friendship often eludes them, and she also loves helping them find the community they crave.
Find Christine online at www.gracecoversme.com
This post is an excerpt from Christine Hoover's new book, Messy Beautiful Friendship: Finding and Nurturing Deep and Lasting Relationships, which explores the joys and complexities of friendship among Christian women.