"Kelly, you need to take back your confidence."
The second the woman said this to me was the second I knew that she was onto something. I'd been hesitant, not moving forward into things the way I used to. I used to be known as "full-force Kelly," but now? Now I was questioning things…delaying…procrastinating.
Should I really do this?
Is this what God wants me to do?
Am I really able to follow through and make something like this happen?
Where had my confidence gone?
Just like God had said to Joshua, the truth remains for us, "Have not I commanded you? Be strong, vigorous, and very courageous. Be not afraid, neither be dismayed, for the Lord your God is with you wherever you go." (Jo. 1:9 AMPC)
God doesn't change, so that must have meant that I changed. God doesn't stop being with me, so that must mean I let go of holding hands with Him.
We will never get where we are going, if we've lost our going with God, and if we don't recover it once again.
Have you lost direction? Do you feel unsure about what to do in specific situations? Do you want to more clearly know God's will for your life, for situations, for decisions?
"Do not be conformed to this world (this age), [fashioned after and adapted to its external, superficial customs], but be transformed (changed) by the [entire] renewal of your mind [by its new ideals and its new attitude], so that you may prove [for yourselves] what is the good and acceptable and perfect will of God, even the thing which is good and acceptable and perfect [in His sight for you]." (Ro. 12:2)
God wants us to know our way (or, better said, His way for our life). We have the ability to know what God wants us to do, what direction to head, what words to say, what path to take, what road to go down, what calling He has for us. We have the ability to prove the good and acceptable and perfect will of God. Why? Because Romans 12:2 says we do!
This verse is a big deal! It is a game-changer for those who feel stuck, unsure and immovable. There is no impossible situation, just the appearance of what looks impossible. Renewed minds see how to cross over the great divide and to walk into God's will. They find what is good, acceptable and perfect — to God. They walk confidently, again.
Did you know this is available to you? I'd love to walk down this path with you. I'd love to help you get your confidence back through the power of prayer and His Word.
I am gathering a handful of women to seek the Lord for His calling for our lives. Whether you are looking for direction about a situation or for the overall purpose for your life, I believe many will gain renewed clarity and understanding regarding God's best paths in the big or the little details of life.
About the "What is My Calling" Workshop

During the "What is My Calling?" workshop, you will:
1. Discover the biblical power of living out your calling.
2. Gain understanding about God's will for decisions or for your life.
3. Identify your calling or God's direction in your life.
4. Solidify your calling and next steps or gain wisdom for hard life situations.
5. Propel forward through the power of prayer.
6. Find potential accountability partners to keep in touch with.
7. Collaborate and find support in a breakout group.
***Plus: A personal encouragement email from me! I will be praying to ask God to give me a unique verse and a prayer for each of you. I pray this blesses you immensely on your way!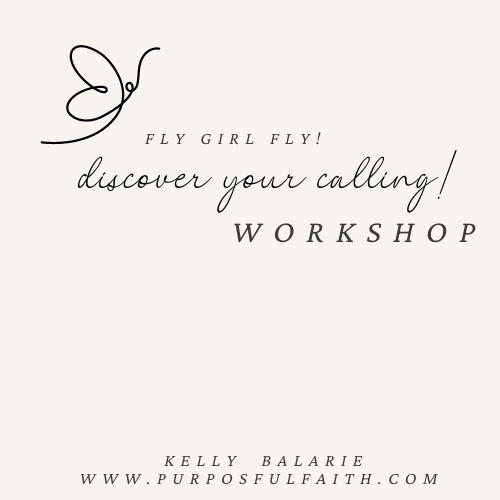 "What is My Calling?" Workshop
Thursday, Feb 9, 2023 from 7:00 PM ET - 9:00 PM ET via zoom.
**recorded version available.
The evening Zoom workshop cost is $54. This price covers costs, creates personal accountability to attend/steward the knowledge, and blesses me in the creation of future frameworks for ministry. There is no price that is too big in discovering God's calling in one's life. I pray that God give you all the resources to invest in your own life! Bless you!
Discover your calling. Or, help a friend who is lost, find their way again by giving this event or recording as a gift.
Register today (via the button below) for the "What is My Calling?" Workshop on February 9, 2023 from 7 PM ET to 9 PM ET.
**Subscribe for all Purposeful Faith blog posts by email – click here.