I am running. Panting hard, unsteady breath—not effective.
I need air. I need to breathe deep and steady or I'll double over from exhaustion.
I am covering ground but I am losing it at the same time.
I'm exerting an excessive amount of energy and depleting my reserves as I take shallow breaths. I am flying past the scenery and missing out on the depth of beauty found on these country roads.
As I mentioned before, I am training for a half-marathon. The task is beyond me. I can't do it without the help of the One who put this body together and is able to sustain me when I reach my limits.
In just a little over a month, I'll come face to face with cold November air and more than a dozen miles stretching before me.
I have been living as if life is a 100 meter dash, not a marathon. I need to grasp a marathon mindset or be injured or maybe even taken out of the race.
But I'm not just talking about this literal race.
Covering Ground
Have you been training? Have you been doing time on your knees? Have you been stretching your faith muscles through prayer, so that you are prepared for what's to come?
Are you giving your body a rest?
Have you been taking time to slow so that your body can be repaired?
Are you caring for those in your charge or are you pushing them to the limits as you race ahead?
Are you relying on your strengths to push forward or are you receiving His grace for your lack?
I am not proficient in prayer or rest—in fact sometimes I'm a downright pathetic pray-er and a restless rester. I want this to change. It has to change for the sake of my health, family and spiritual life.
For the next 31 days I am focusing on this dynamic duo—prayer and rest—and asking God to help me grow.
I like to plan my course, but I want God to lead these days instead.
I like to know what the outcome will be, but I want Jesus to overcome me instead.
I like to avoid pain, but I want the Holy Spirit to burn through my weaknesses instead.
Are you following His pace for your path? Are you leaving space for grace?

As we settle into our stride may we keep in step with the Spirit. May we not lag behind nor run ahead. May we stop running ourselves ragged and run instead to that old rugged cross—wrapping ourselves around His love.
May we enjoy the route that He has ordained for us—even when it's uphill, even when it's muddy, even when there are detours.
We will likely stumble on this journey, but instead of throwing in the towel, let's receive and extend His grace for ourselves and those around us.
There is beauty to be found at our feet, let's not miss it. Let's embrace His pace for each of our lives.
Let's Pray
Dear God:
Help us to catch our breath and wake up to Your Presence. We are not able to breathe without you. May we not take the next breath for granted but "breathe in Your grace and breathe out Your praise*."
May You recharge us as we go down the road that You have laid. Help us to drink in Your grace as You set the pace. Help us to lay down our hurry and scurry and grab hold of Your Body and Blood, broken for us.
We repent of wimpy prayer lives and ask You to strengthen our resolve to cry out to you, often, and with great faith. Help us to unwind in Your Presence, through prayer and rest, as we grow in trust that You will be with us each step of the way. Help us to run the race set before us, faithfully.
Thank You that You are able to take our frazzled and harried days and transform us—free and healed.
Amen.
Get all Purposeful Faith blog posts by email – click here.
*adapted from Your Grace Finds Me lyrics by Matt Redman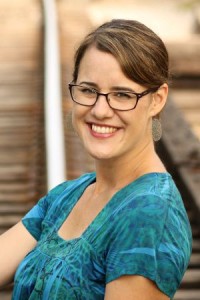 Katie M. Reid is a tightly wound woman, of the recovering perfectionist variety, who fumbles to receive and extend grace in everyday moments. She delights in her hubby, four children and their life in ministry. Through her writing, singing, speaking and photography she encourages others to find grace in the unraveling of life. Katie is a contributing writer here at Purposeful Faith and also over at God-sized Dreams. Connect with Katie at katiemreid.com