"Look at her.  She has it all.  It must have been easy for her.  She doesn't have the same barriers that I have.  I could do that too if I had the financial resources that she has, the support she has, the backing, the connections.  She is confident.  Nothing can take her down.  I want to be like her, but I will never be as good, as insightful or as knowledgeable.  I can't.  I will never do "BIG" things.  She's the whole package.  I may as well give up."
Comparing is wearing.  It's tiring.  It's frustrating. It brings us down and settles us in a place of insecurity. When "comparing" is our companion, we are only as secure as the depth of another's weakness.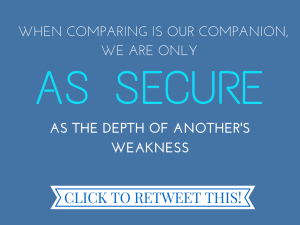 How sad is that?  Our strength balances on our assessment of another's faults, lack of material items or "less than" appearance.
"COMPARING" STANDS AND TAUNTS:
"I think I am prettier. I am smarter. I am happier."
"My car is better.  My house is better.  My family is better"
" I am less than you.  I am nothing."
"You are better than me.  I may as well give up."
"You are respected.   I feel dejected."
"You are so put together. I am ready to fall apart."
"You are so rich.  Why can't I have more?"
"Your clothes are perfect.  Mine are outdated."
"You have a neat house.  I interact with my kids more."
"You have kids that show you love.  I have a neater house."
"You may know so much about God.  I think I love others more."
"You love others. I know more about the Bible & God."
"You serve. My faith is stronger."
"You do so much.  God loves me less"
"You are so "insert judgment here", I am so "insert feel good response here".
"You are so "insert praise here", I am so "insert a "less than" comment here".
Aren't we made for more than this?
Comparing takes us on the up and down roller coaster ride – called "judgment".
And, it drops us off feeling  inflated or deflated. 
3 WAYS COMPARING IS BAD FOR US:
1.  OTHERS BECOME THE BAROMETER OF OUR WORTH.
We feel unvaluable.  So, we either look to others to confirm our worst suspicions or we look to put others down to lift ourselves up.   Either way, others hold the power to sink us or to let us swim.
We win or lose. There is no middle ground. We are either better than or less than.  No matter, we always stand ready to fall.  Our position is constantly threatened  – there is always someone who is better, who has more or who is more talented.
"In all this comparing and grading and competing, they quite miss the point." (2 Cor. 10:12 Msg)
2.  WE MISS "LOVE".
Notice the theme of comparing?  It is all about "US"!   What if the person we are so quick to judge, has a life that is stuck in the sludge?  What if they need encouragement, love and help?  What if they feel worse than you?
When we compare, we have eyes that only see our own pain.  We were created to love others.  We completely miss the point of this when our greatest pursuit is seeking our own worth.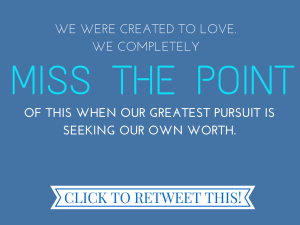 By this we know love, that he laid down his life for us, and we ought to lay down our lives for the brothers. (1 John 3:16)
Let's make it about His story, not our glory.
3.  WE MISS GOD'S GLORY IN OUR WEAKNESS. 
You may be asking yourself, "Why is this bad? It is good to rely on yourself. At least then you are in control."
When we rely on ourselves, we miss the chance to see God as he fills up our weak areas.  We miss his glory as he works out his story.  We miss the opportunity to learn about ourselves – as we trust Him.  We miss the opportunity to see how he wants us to grow in love.  We miss so much.
That is why, for Christ's sake, I delight in weaknesses, in insults, in hardships, in persecutions, in difficulties.
For when I am weak, then I am strong. (2 Cor. 12:10 NIV)
We now have a great understanding of the 3 ways comparing is bad and damaging for us.  Be encouraged, in Part III we will look at the 3 Ways you Can Overcome "Compare" to Find Repair.  
God is a God of grace, love and forgiveness.  We have all fallen into comparing at some time or another; he loves you and has a plan to help you change.  Comparing is bad, but God is good.  He has great plans to help you.
Be sure to read Part I: "The Shocking Truth About Comparing"  and Part III: 3 Tips to Stop Comparing Once and For All.