Today, I am delighted to welcome Celeste Gonzales to Women's Ministry Monday. Celeste points out a path to healing after being injured at church. Thank you, Celeste. It is a delight to welcome you.
Why does God tend to grow us through painful times? Ever noticed? In times where you want to withdraw, God asks us to be vulnerable, willing and open to new relationships and leadership.
Joseph is the prime example of this: sold by his brothers into slavery, appointed ruler of Potiphar's house, thrown back in prison, then appointed second in command of Egypt.
Ups, downs, ups, downs… God's ways are a mystery.

Accept the way God does things,
for who can straighten what he has made crooked?
Ecclesiastes 7:13 (NLT)

So, how do you stay emotionally healthy when you're hit with betrayal, accusations, and loss of friendships, all while being expected to shine Jesus?
Good question! To be honest, I haven't mastered this…
I've had times where I felt so emotionally unstable from how cruel people can be that I needed to collect myself in the bathroom before entering the next meeting so I wouldn't fall apart.
One day, I looked at my husband and said, "I'm not doing well. I'm sick emotionally and I don't know what to do." Unfortunately, he had no idea what to do with me either. It was rough!
I decided I'd had enough. I didn't know who to trust or if I should even trust anyone, but I was determined to find healing.
Christ died to set us free, right?
By his stripes we are healed, yes?
Doesn't that mean emotional healing, too?
If Jesus left gifts for us at the cross, isn't it our job to seek them out? That's just what I did—I sought answers and guidance. I asked for help…
And, you know what happened? 

I didn't get a response. Nothing. It hurt. Discouragement settled.
However, one thing I knew is I wasn't giving up. I wasn't giving in. Jesus' healing was already prepared for me. He bought and paid for it on the cross over 2000 years ago! A good Father loves to give good answers. He's not satisfied until we find them. So, on I went.
I saw a Christian counselor for deeper guidance.  I followed through on the homework he gave me, I took notes during every message from my pastor, and I continued in personal devotion.  Like physical therapy after a bodily injury, I kept pressing on toward the goal.
I press on toward the goal to win the prize for which God has called me heavenward in Christ Jesus. Phil. 3:14
How is God calling you to press on?
What might he be calling you to pursue?
Let me assure you, God not only works for you, but he works with you and behind the scenes – for you.
It just may not come as you expect. You know, I hardly wanted to be open with people about my feelings. That's tough work. After all, I trusted before – and I got hurt. But God, he had other plans. One way or another, God let people in on my secrets.
Frustrated, I wondered, "Didn't He just see what happened to me? And He dares to give people insight to my life and tell them things only He knows?"
Well… yes, and yes.
We had a talk: "God I don't want people to know these things."
His response: "I know, but it's good for you."
Why does God always have to be right??
Because God is God and he has good deep down in the depths of our hurt.
I can attest to this. I really can. Today, my friendships are stronger than they've ever been, my home is peaceful, I love the ministry I'm leading, and my heart is full of joy.
Like Joseph, this path wasn't easy, but still, I found fruitfulness in a time of affliction.
Today, you may feel pained, ashamed or out of the game, but let me assure you, your pursuit of God is not purposeless.
Let Joseph be your reminder. He didn't stop leading, or stop getting out of bed, or turn his back on God. He got up, kept his heart pure before the Lord. God not only prospered him, but redeemed his pain!
Maybe these words by my pastor might resonate with you, "I've never been hurt more than by the local church. I've never been healed more than by the local church."
Have you been hurt?
If you've found yourself in an emotionally weak place, today find encouragement – you don't have to settle into it or ignore it! More awaits. Acknowledge it and seek wholeness; settle for nothing less!
God has already paid the price for your healing, and if you seek him through it – he will lead you to it!
Get all Purposeful Faith blog posts by email – click here
About Celeste
For nearly a decade, Celeste Gonzales has pursued the call to see women grow in their God-confidence and walk boldly in their calling. As part of the Celebration Church Austin team (along with her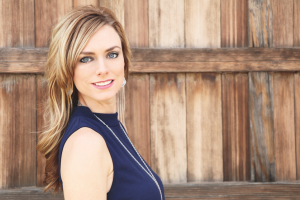 husband, Daniel) Celeste utilizes her relatable communication style, effective strategy, and heart for discipleship to help develop and equip women leaders. She has three things that get her up every, or at least most, mornings with a smile: Syrena (11), Luke (8) & Kya (4). Follow her on Instagram & twitter @celesteadores .