Post by: Jami Amerine
Our three-year-old son Charlie was throwing a tantrum. As he thrashed on the floor screaming and crying. I went about my daily list of to-do's, trying to ignore him.
After 15 minutes, my patience was waning. The bellows were piercing.
I walked over and stood next to him.
He stuttered through his sobs.
"I – want – to – pway – wif – da – my – pad."
"I am sorry," I explained, "you may not play with the iPad because you bit your brother."
"Get on da fwoor wif me, down heeewr you can why come I had to bited Sam!"
I didn't want to get on the floor, actually I was pretty sure if I got horizontal I would lose the day. I would end up watching Maxx and Ruby all day, wondering where their parents were, napping, foraging for snacks under the couch cushions and ignoring the laundry.
I grabbed the remote and dropped to the floor.
Charlie cuddled into me and whimpered.
From the floor view, I could see what he saw.  I needed to vacuum.  The furniture needed steam cleaned, I spied no less than 8 Cheetos (bonus.) Everything was much more daunting. Maybe biting was the best defense for trying to get your turn, when no one seemed to listen or see your point of view. Sure, violence against your brother…sin is never the best defense, but it is usually my first line of defense.
Offense.
An offense as defense is never a good play, still, it is usually how I roll. Truly, I am not much different than the towheaded toddler grieving "mypad" time in the crook of my arm.
Suddenly, it occurs to me this is why Jesus came to Earth. What better way to identify with us? To experience our point of view, to live as human so He could simply say, "I know baby… I know."
Most assuredly He was both God and man. He overcame temptation like a boss, but He faced it. We can assume as a boy He skinned His knees. He hungered and He was thirsty. We are told He was tired, angry, exasperated, pained, and most importantly, Jesus wept.
We were sent a Savior and left a Helper. The Helper reminds us that the Savior understood the view down here.  This is dear to me. The truth of a God who would die for me so that when I behave badly when I stumble in my humanness, He is there to catch me, holding me close.
Charlie reached up and played with my hair and said, "Sowwee I bited mommy." I reached behind me and pulled a Cheeto and an M&M out from the cushions and handed them to him.
"I forgive you, baby.  It's not easy being human.  Grace to you my love."
I switched on the tv and we watched Maxx and Ruby, ate couch granola, and wasted the day being human beings with a perfect view from way down here.
"Like the Son of Man, who did not come to be served, but to serve and to give His life to redeem many people." Matthew 20:28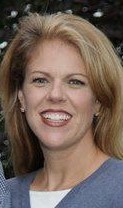 Jami Amerine is a wife, and mother to anywhere from 6-8 children. Jami and her husband Justin are active foster parents and advocates for foster care and adoption. Jami's Sacred Ground Sticky Floors is fun, inspirational, and filled with utter lunacy with a dash of hope. Jami holds a degree in Family and Consumer Sciences (yes Home Ec.) and can cook you just about anything, but don't ask her to sew. She also holds a Masters Degree in Education, Counseling, and Human Development. Her blog includes topics on marriage, children, babies, toddlers, learning disabilities, tweens, teens, college kids, adoption, foster care, Jesus, homeschooling, unschooling, dieting, not dieting, dieting again, chronic illness, stupid people, food allergies, and all things real life. You can find her blog at Sacred Ground Sticky Floors, follow her onFacebook or Twitter.