Moms know what I am talking about here. It's that time when you are T-minus 5 minutes until junior's lights out. It's that time you know you're about to be set free. It's that time things need to move ahead with military precision. Demands and dictates must be followed and executed. Perfectly, even. Orders run like a military checklist…
Prayers: Contrite and consolidated. Check!
Kid: 1 sip,  1 question, 1 hug. Then, they must get snug as a rapid-fire bug in a rug. Check!
Door shuts: Only a confident "Good Night" is permissible with no grain of guilt allowed (lest the kid should pop his head back out again). Check!
Final Declaration of Victory: A sigh against the side of the wall you are slumped against.
War Plunder: A piece of dark chocolate on the couch to soothe away residual anxiety.
You made it!!!
I live my life like this and I feel like a barbarian for it. Sure, I know it is wrong. Yet, after you spend nearly 14 hours being the living slave to the kid you love beyond the smallest inkling of your wildest imagination, and after giving your best and then giving a spoonful more – your somehow on your last leg.
Many days, I hope by morning, everyone will forget how I acted like a jerk. How I spoke words I should have kept in my mouth. How I snapped about people not moving fast enough. How I nitpicked about the kitchen not being clean enough. How I grunted at mistakes.
Honestly, it is often easier to run away than to run straight into confession. It is easier to run fast than to slow down. It is easier to do than to be.
And, so, the insanity continues! I go through the motions. Repeat.
Yet, one night, things changed. He went to sleep. Peacefully.
Hmm…no sound. He was all quiet, all sweet. And here I was – outside the door. I couldn't help but notice how far, far away I felt.
What if real peace isn't chocolate?
What if success isn't determined by a stopwatch?
I opened the door and went inside, I climbed up to the top of his bunk bed. Shocked, his head peeped out.
I sang a long song. Gently, his hand stretched around my neck. I felt its tight grip.
I relished the moment.
He whispered, "I love you."
There is nowhere else I would rather be.
What have you been rushing to? Often our best moment is in the process of slowing down.
How many times have we missed it? How many times have we rushed to something better, more relaxing, when what we really want- is right before us?
When we slow down to let in a moment, we get a chance to receive it.
When we reach out with no demands, we find people reach in, towards us.
When we choose love we experience it.
I am learning – slowing down is paramount to receiving love.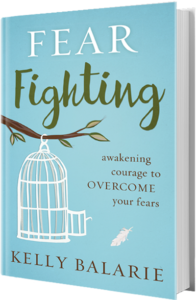 Kelly's new book, Fear Fighting: Awakening Courage to Overcome Your Fears has been called "A must read," "Breathtakingly honest" and a "Great Toolbox to Overcome Fear." Read it today.
Discover how to flee from fear and fly in faith through 4 Days to Fearless Challenge.
Get all Purposeful Faith blog posts by email – click here.