Post by: Jami Amerine
At a recent doctor's appointment, I learned my physician suspected that the greatest health crisis I was facing was… dehydration.  That's right, I am thirsty.
I consider myself fairly intelligent when it comes to health and nutrition.  I confess, I am embarrassed by this diagnosis.  Alas, I knew he was correct.  And the fact of the matter is, I don't have time to drink eight, 8 oz. glasses of water a day.  On the days I do get that much water in my thirsty body, I don't have time to make it to the bathroom in an efficient ratio of water in, urine out… so I am fairly miserable for 90% of the 64 ounces.
Needless to say, I left my doctor's office feeling defeated, depleted and discouraged. There isn't any way that my scale can be ten pounds lower than his. Is he just a vindictive mad scientist?  I sat in my car and had a hale and hearty cry and then as I examined myself in the mirror, I began to multitask. I reapplied mascara and lip gloss while listing all things I find most awful about myself.
Fat.
Loser.
Lazy.
Dehydrated.
Whiner.
Horrible at math, mostly weights and measures.
Exasperated.
Phoney.
And the worst of all… mean.
I am a very mean girl.
I called the friend who was babysitting our young son and two foster placements and told her I would be there in an hour. I went to the store and bought her a lovely fall floral arrangement and the ingredients to put a fragrant squash soup in her crock pot for dinner. Crusty bread and an apple pie were added to my basket.
I would take great care of my friend for helping me.
On my way to the checkout, I stopped and grabbed chocolates for my sister, my husband's favorite cookies, and the children's favored frozen pizza.  I scurried to the other side of the store and thoughtfully picked lovely greeting cards to bless my friends, our foster-daughter's birth mom and her caseworker too.  Just before I checked out, I filled my basket with an abundance of toiletries for our three oldest children  who are at college. Then I made my way to the gift wrapping aisle to find bright colored bags to put the shampoos, shaving gels, creams, lotions, and deodorants in;  if I hurried I could leave the bags at their dorms before I picked up my babies.
When I climbed back in my car, quite pleased with the purchases, I would bless my darlings with, I caught a glimpse of myself in the mirror. Immediately I began to admonish myself, I forgot to grab myself any water.  I rehashed the list of my faults:
Chubby.
Dumb.
Slothful.
Parched.
Grumbler.
Frustrated.
Fake.
And the worst of all… mean.
I am a very mean girl.
About that time my daughter called to ask about my doctor appointment. I reported to her my struggle and she chirped, "OH MY GOSH MOM!  You must get this new app!  It's called plant nanny!"
I followed her instructions and downloaded the app. I picked a cute little cartoon plant and begrudgingly entered my weight and read my results. The plant nanny decided how much water I must drink to keep my little imaginary plant conscious alive. The little seedling blinked at me with trusting animated eyes and I cooed at the psychological entrapment that would force me to drink enough water to nurture the cybernetic life into a blooming dependant illusion.
Over the next few days, I became more diligent in my pursuit of water. My iPhone would alert, my little make-believe Japanese succulent would bat her eyes at me and I would drink, click, and apply "water" to my H2O conscious companion.  I treated that animated being like royalty, then on the 4th day, a tragedy arose.
I lost my phone.
I turned the house upside down, it was nowhere to be found.  Later that evening, I recovered my phone between the  couch cushions.  When I opened the plant nanny app I knew immediately, the app had died of thirst.
Fat.
Loser.
Lazy.
Dehydrated.
Killer of simulated Japanese succulents…
And the familiar voice hummed in my ears, "You are so mean… you were so good to tend to that imaginary plant.  You are so kind to your neighbors, orphans, and case workers. You observe such careful and tedious attention to everyone, but you are so mean to My girl."
I know this to be true.
The things that come out of my mouth toward myself are brutal. The TLC I afford those around me is stellar. The attention I bestowed upon the animated succulent … was criminal compared to the neglected efforts I make to grab myself, His girl – an artless glass of water.
I am most convicted of this, I may look as though I love my neighbor… but how could I possibly when I so blatantly despise myself?  How can I be so hard and ugly to the daughter of the Most High?  How can I spend so much energy on what I deem righteous and be so cruel to myself?  He who died for me, that I might be called blameless… His girl. I agreed with Him. It was not what He wanted for me. He wants me to recognize, I am clothed in His goodness. He sees me as perfected. He adores me as His own.
I have neglected the gift of my inheritance, daughter of Jehovah.  I deleted my plant nanny app.  I applied mascara and powdered my nose.  I grabbed my glass off the table and filled it with new water.
Water that this beautiful girl needs to bless the nations with wealth, prosperity and the Good News of Jesus Christ.
A champion for the little guy, a woman on a mission. Refreshed and adequately warned, don't mess with His girl.
And walk in love, as Christ loved us and gave Himself up for us, a slain offering and sacrifice to God – a sweet fragrance. Ephesians 5: 2
Get all Purposeful Faith blog posts by email – click here.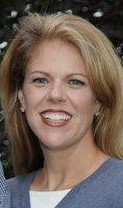 Jami Amerine is a wife, and mother to anywhere from 6-8 children. Jami and her husband Justin are active foster parents and advocates for foster care and adoption. Jami's Sacred Ground Sticky Floors is fun, inspirational, and filled with utter lunacy with a dash of hope. Jami holds a degree in Family and Consumer Sciences (yes Home Ec.) and can cook you just about anything, but don't ask her to sew. She also holds a Masters Degree in Education, Counseling, and Human Development. Her blog includes topics on marriage, children, babies, toddlers, learning disabilities, tweens, teens, college kids, adoption, foster care, Jesus, homeschooling, unschooling, dieting, not dieting, dieting again, chronic illness, stupid people, food allergies, and all things real life. You can find her blog at Sacred Ground Sticky Floors, follow her onFacebook or Twitter.