Post by: Katie M. Reid
The stale air of the subway felt like her closest companion. She was surrounded by people yet no one seemed to notice her. Some passengers looked straight ahead, others seemed to look through her, and most were on their phone. A few, very few, were engaged in conversation.
I'm hungry. She cried out.
And the passengers were unaware…or unmoved.
I'm hungry! She called out again.
I heard the cry. Not just from the mouth of this fellow passenger, but deep within my soul.
I have known hunger too: soul hunger.
And I wonder how many of us join in this refrain? I'm hungry. I'm hungry!
On the days when there's nothing left in the cupboard. For the times when the house (or inbox) is devoid of life. In the aftermath of unexpected storms that barrel through. There is one who hears, who sees, who understands. One who has experienced loneliness (and hunger) in ways we can't even imagine.
He answers our cries with Himself: the Bread of Heaven broken for us.
He doesn't look through us, He lives in us. He invites us to feast as He provides soul manna that never runs out. He never runs out on us. Jesus. Not a trite answer but THEE answer for our deep soul ache.
Tried and true, tested and proven, His Love saturates lonely, aching places.
Here for us; always. When others ignore, when they overlook, or when they inadvertently hurry by…He remains.
Here are 7 verses to feast on when you're feeling lonely:
Then Jesus declared, "I am the bread of life. Whoever comes to me will never go hungry, and whoever believes in me will never be thirsty (John 6:35).

Here I am! I stand at the door and knock. If anyone hears my voice and opens the door, I will come in and eat with that person, and they with me (

Revelation 3:20

).

Don't you know that you yourselves are God's temple and that God's Spirit dwells in your midst?

(1 Corinthians 3:16).

Don't be afraid, for I am with you. Don't be discouraged, for I am your God. I will strengthen you and help you. I will hold you up with my victorious right hand (Isaiah 41:10, NLT).


Where can I go from your Spirit?

Where can I flee from your presence?

If I go up to the heavens, you are there;

if I make my bed in the depths, you are there.

If I rise on the wings of the dawn,

if I settle on the far side of the sea,

even there your hand will guide me,

your right hand will hold me fast

(Psalm 139: 7-10)

.

For I am convinced that neither death nor life, neither angels nor demons, neither the present nor the future, nor any powers,

neither height nor depth, nor anything else in all creation, will be able to separate us from the love of God that is in Christ Jesus our Lord

(Romans 8:38-39)

.

Teach these new disciples to obey all the commands I have given you. And be sure of this: I am with you always, even to the end of the age (Matthew 28:20, NLT).
There is a verse here for each day of the week. May you be comforted as you cry out to God and bring your loneliness to Him. Oh how He cares for you and is more than able to provide for the hunger of your soul.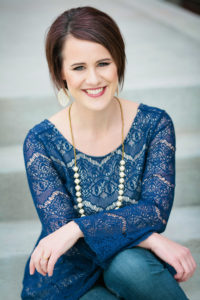 Katie M. Reid is an author and speaker who encourages you to find grace in the unraveling of life (look for her first book coming out next summer with Waterbrook!). She inspires you to embrace your identity in Christ and live out your God-given purpose. Katie delights in her hubby, five children, and their life in the Midwest. She is a fan of cut-to-the-chase conversation over hot or iced tea. Katie and her husband host the popular Facebook Live show, "Stop! Hammock Time" (which airs Wednesdays, 9pm EST). Join in the fun and unwind in this vibrant community.
Connect with Katie at katiemreid.com and on Facebook and Twitter.