Blog Post by Abby McDonald
My seven-year-old has asked questions for as long as he could string sentences together. He is a sponge learning about the world around him, and he loves figuring out how things work.
Often, he asks me a question I don't know the answer to. And parents are supposed to have all the answers, right? But I don't, so I simply tell him I'll have to look into it and get back to him, or I'll help him find the answer.
A few months ago, I discovered he was learning about storms at school. He loves engineering and science, and was repeating some of the things he'd learned about tornados, hurricanes, and floods.
Partly because he goes to a public school, I like to hear about his curriculum. I give him reminders about how God orchestrated all of this, and how nothing is out of his control.
I don't do this so that he won't ask questions, but so he will have a strong foundation for asking them. He continues to ask, and I am humbled because often, I have to search. I have to request wisdom from God, who generously gives it to me when I come to him.
After a recent conversation I jumped on social media and found a rather heated debate taking place about whether it was okay for Christians to drink wine. Some of the comments were downright degrading.
I wondered, when did we stop asking questions and assume we were always right?
It's as though the age of social media has gotten rid of any knowledge that we may, in fact, be human. That we may not always hit the nail on the head the first time.
That we may still be fallen creatures.
And yet we stand loud and proud on our platform, hidden behind the screen, proclaiming we know everything.
I'm not disputing there's right and wrong. The clash between good and evil is clearly shown in scripture. And yet there are so many issues the Bible does not address. Things where we are required to follow the Spirit's leading and exercise judgment.
And yet all too often, we speak as though we are Jesus himself. We make assertions about right and wrong in his name, regardless of whether his word affirms any of it.
I don't know about you, but the last time I looked in the mirror I did not see Jesus' reflection. I don't want that authority and I'm sure if I had even an inkling of it, I would abuse it.
His Spirit lives in me, counsels me and directs me, but I am not him. I am still very much a human tainted by sin, flesh and selfishness. I pray everyday others will see a little bit of him in me, but I still fail.
I'm afraid that many of us who call ourselves Christians live, whether knowingly or not, in a world of black and white. But friends, not everything is black and white.
And if we stand up and proclaim we know it all, is there room for growth? Is there space for us to move forward in our walk with Christ and be made into his likeness if we've already arrived at the pinnacle, knowing all things?
I don't think so. There's no space for humility either, because our pride has made us think we can't be wrong.
When we enter into a relationship with God, he doesn't clothe us with robes of self-righteousness. He clothes us in his righteousness.
When we think otherwise, we go down an ugly path of self-sufficiency. But his power isn't made perfect through my self-sufficiency and arrogance. It's made perfect through my weakness.
As we interact with others online today, things may get heated. Our nerves may get pricked and we may encounter some hurtful comments.
If this happens, let's give ourselves space to breathe. Let's extend the grace Christ gave to us toward others remember there is only one person who has all the answers.
And he isn't of this world.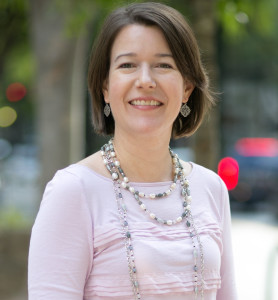 Abby McDonald is a writer who can't contain the lavish love of a God who relentlessly pursues her, even during her darkest times. When she's not chasing her two little boys around, she loves hiking, photography, and consuming copious amounts of coffee with friends.
Abby would love to connect with you on her blog, Twitter, and Facebook.