I call myself a runner, but I always feel the need to qualify the statement.
I'm not built like a runner. I'm not a fast runner. My mileage wouldn't impress you.
But I get out there, onto the trail several times a week. And other than the last few months of four pregnancies plus a couple injuries which sidelined me for a time, I've been a runner as long as I can remember.
When I run, I'm usually smiling. It's a strange habit, but I smile in part because running is my alone time. I walk out the front door, ready to move, and it's like a big, deep breath. Plus a lot of panting, but still.
I smile because the finish line is always on the horizon, and I'm a hoper and a dreamer. I smile, because I need the opportunity to think my own thoughts for a bit. Thoughts about something other than school and the next meal and a million little tasks to do around the house.
Give me some fresh, quiet air under a big blue sky and the opportunity to think my own thoughts–and it feels like being home. Not so much like being in my home, but at home with myself. 🙂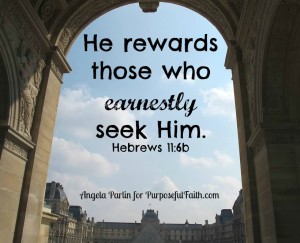 Last week, out on the trail, one of my thoughts morphed into a pressing question:
What are you running after anyway?
Get all Purposeful Faith blog posts by email – click here.