By: Angela Nazworth
The busy highway turned into a parking lot. I gripped the steering wheel and willed the cars ahead of me to move. Not one budged. I was going to be very late picking up my daughter from preschool and I worried that she was feeling sad and scared as she waited for me. When I finally arrived at her school, I found her sitting alone at her table. She was wearing her pink coat with a matching hat; her princess themed back pack was resting over her slumped shoulders. When I called out her name, her little head popped up like a gopher emerging from its tunnel.
"Mommy," she exclaimed!
Reaching out for my embrace, she turned her head slightly toward her teacher and confidently said, "I just knowed my mommy would never leave me."
Do you hold such confidence in your heavenly Father?
Do you know that He'll never leave you?
I ask because deep down in my soul, I didn't always believe this truth. I believed it in part, but not in whole. I believed that God, the creator of the universe, was always present in His creation. I believed that if I were oppressed, victimized, or sick, He would be with me in those dark hours. I also believed that He celebrated each milestone and victory in my life.
What I had trouble believing is that God
would stay by my side during the times I failed.
When people or the stuff of this world hurt me, I found my strength in knowing that I was a child of God and that He would not forsake me. Yet, when I was the promise-breaker, liar and the selfish hoarder, I felt not only shame and sorrow for my actions, I felt alone. That perceived desolation, which was stationed on a lie and wrapped with guilt, often kept me from crying out to my Savior.
I took God's promises from John 3:16-17 and added  the word "unless."
"For God so loved the world, that he gave his only Son, that whoever believes in him should not perish but have eternal life." Unless you mess up in a big way.

With the added unless, I completely ignored John 3:17
"For God did not send his Son into the world to condemn the world, but in order that the world might be saved through him."
I rewrote the meaning of grace and lived as if it didn't apply to me. But Grace is without limits. Grace blatantly steps over our human-made boundaries and says I haven't left you. I will never leave you. Rest in me. Trust me. Live for Me, because I will never let you go.
Scripture does not read, He will never leave you or forsake you unless you take the Lord's name in vain, or unless you commit adultery, or unless you yell at your kids, or unless covet your neighbor's house.
Yes, our actions have consequences. No, God does not want us to chose our sinful desires over His perfect gifts. But once we're His, he won't leave us. He never longs for us to self destruct. Instead, He hears our cries and invites us into His open arms.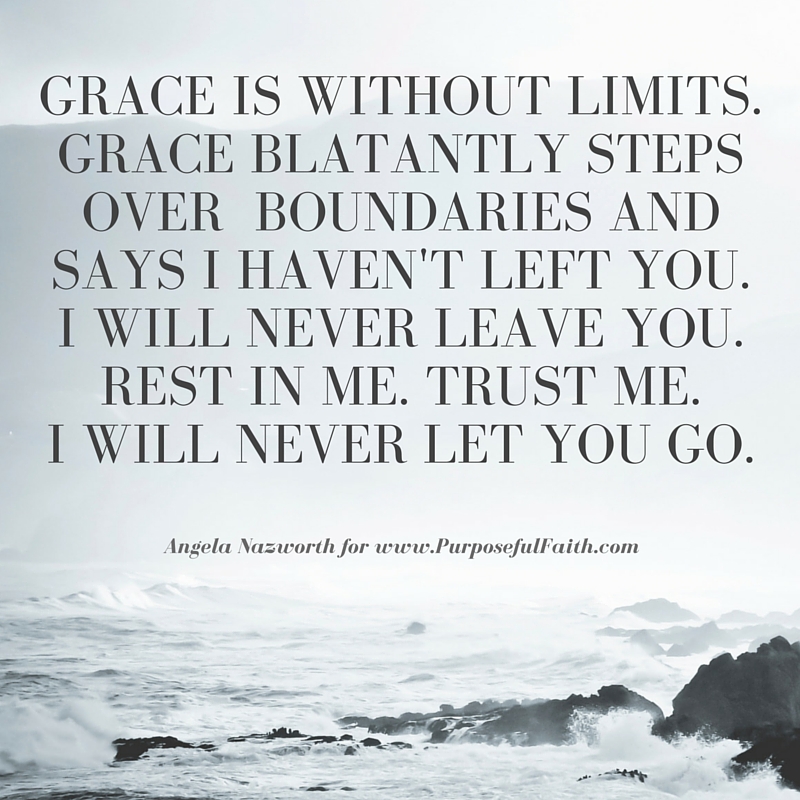 "Who shall separate us from the love of Christ? Shall tribulation, or distress, or persecution, or famine, or nakedness, or danger, or sword?  As it is written, 'For your sake we are being killed all the day long; we are regarded as sheep to be slaughtered.' No, in all these things we are more than conquerors through him who loved us. For I am sure that neither death nor life, nor angels nor rulers, nor things present nor things to come, nor powers,  nor height nor depth, nor anything else in all creation, will be able to separate us from the love of God in Christ Jesus our Lord." Romans 8: 35-38.

Get all Purposeful Faith blog posts by email – click here.
Angela Nazworth is a flawed and forgiven recovering perfection who writes mostly about the beauty of grace, faith, friendship, vulnerability and community at angelanazworth.com. She is a wife and a mother of two, who manages philanthropic communications for a nonprofit, national healthcare association. Angela's also an encourager, a lover of good books, coffee, girl's night out, sunshine, and waterfalls. She believes the creator of the universe is both the author of and lead character in her life story. With every experience she learns more about who she is in Him … and takes another step on her journey to love others better. You can also chat with Angela via Twitter.