Does it feel like you are going through some things? That you might not come out the other side in one piece?
I remember years ago, I didn't think I was going to make it… It was the physical pain of what I was going through that was excruciating. If I judged the agony 1-10, I would yelled I was at a level: 100.
I thought I was going to die. The pain was that excruciating.
In my case, it was an extreme and super fast birthing-a-baby moment, with increased side-effects. As we drove down the street furiously, I remember thinking that my husband couldn't help me escape my body. Nor, would he drive on the sidewalks like I was instructing him to.  I remember coming to the stark realization that the only one who could really help me — was God. I thought — if this is a glimpse of hell — I want nothing to do with it.
Only Jesus could save me.
Only Jesus was there for me.
I was in the inferno alone. For many of us, it may feel that we are in the fire or storm alone.
But, we are not — alone. Another is there with us — Jesus. He is always in the storm.
Remember, Jesus was in the boat with the disciples when the storm hit. He was there when Jesus walked on water. Not only that, but He was in the fire when Daniel went in. He was also at the tomb when the women came, likely, sad and weary from the crucifixion.
Be it an angel sent by Jesus or Jesus himself, He was in the storm and the fire.
Jesus is in your storm. He is in your boat. He is in your fire. He awaits outside every circumstance you may see that looks like a tomb. He knows how to rise above that. I truly thought I was going to die, yet Jesus helped keep me alive. I birthed a beautiful baby girl. Jesus was with me. He was in my trial.
And, Jesus, himself — is there, with you. He, himself, is ready to help you.
"Now may our Lord Jesus Christ himself and God our Father, who loved us and by his grace gave us eternal comfort and a wonderful hope, comfort you and strengthen you in every good thing you do and say." 2 Thess. 2:16-17
If the Rescuer, Redeemer, Restorer, Healer and Helper goes with you, what does this mean for you?
About "Rest Now"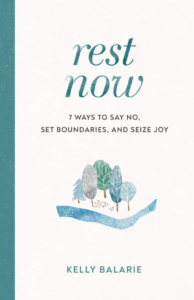 Rest Now offers permission to breathe. It exposes the lies that distract, tire, and bully us, so we don't strive for rest but love from it, like Jesus did. Learn how to
– create boundaries that allow you to overflow with love
– say no so you don't hate yourself later
– ditch passive-aggressive behaviors in favor of healthy conversations
– embrace permission-giving thoughts to create mental space for God
Subscribe for all Purposeful Faith blog posts by email – click here.
Join me or share posts from Facebook or Instagram.
You are invited to the Inlinkz link party!