Post by: Candice Curry
There's a picture buried deep in a box somewhere, stashed away in my mom's closet. Staring back at you, from a worn out Polaroid picture, is a family who seems put together. The little girl squints her eyes to lessen the glare of the sun. She's wearing a striped dress and her hair is carefully combed into two, long ponytails. The picture is filled with pinprick holes from someone moving it around the church bulletin board more than a few times.
It was one of the few occasions that I would actually wear a dress. I was a jeans and t-shirt type of girl. But, on the rare mornings when we actually made our way to church I thought I had to wear a dress or I wouldn't be allowed in. I don't remember a single thing about being there except that I felt we had to act a certain way and dress a certain way to fit in.  I knew very little about what church meant or why we even went in the first place.
I thought Jesus was only for certain people. I thought Jesus was for people who had their lives together and never messed up.  I thought Jesus was just for the people who spoke with eloquence and dressed like they had just walked out of a designer store. I wasn't sure what sin really was or whose was worse, but I knew I didn't want my dirty sins exposed. I didn't want to go to church and let everyone see what a disaster I was. I didn't want to face rejection.
The same feelings carried over into adulthood and I continued to fear Jesus for all the same reasons. I thought Jesus was only for the good people. I thought Jesus was for those without sin and those who navigated through life effortlessly. I thought he only shined on those types of people who were more like him and less like me.
So I stayed away.
I hid from church people.
I hid from Jesus.
I had walked through so much in life that the dirt on my feet was heavy and weighed me down. I dragged my feet everywhere I went and did everything I could to hide the evidence from other's eyes. I promised myself I would wash them one day and present myself to Jesus when I was good and clean. Maybe then he would open his arms to me. Maybe if I could just be good enough, clean enough, rich enough, married, educated, the list was endless. Maybe if I could just wash the dirt off of my feet so he wouldn't know where I've been.
When I was well into adulthood, married and a mother of 4, I started to attend the church near me because my cousin had signed my oldest daughter up for their choir program. I went out of support for my daughter and not my desire to be in church. I sat quietly in the very back of the sanctuary, under the dimmed lights, and tried my best not to be noticed. The congregation might not have seen me but God did.
And then I met him.
I met Jesus.
And he washed my feet for me.
I spent most of my life thinking I had to be perfect for Jesus to love me. No one ever told me that I could come to him just the way I was. No one ever told me that Jesus already knows about the dirt on my feet. I thought I had to transform into someone better for Jesus to be in my life. I didn't know that I could come to him the way I was and that he would transform my life for me. He would be the one to wash the dirt off of my feet for me, gently and with mass amounts of grace and mercy.
You don't have to wash your feet to be loved by Jesus.
You are accepted and loved exactly the way you are right now. No sin is too big, no failure too deep and no past is too dark. Jesus is for the broken and the lost. Jesus is for the underdog, the guy struggling to find a way. He's for the broken hearts and bruised bones. He's for the sinner and the thief, the liar and the cheater. He is for us, me and you.  He loves us in our mess and through our mess. All we have to do is show up.
You don't have to wash your feet.
Come as you are and Jesus will wash your feet for you.

Get all Purposeful Faith blog posts by email – click here.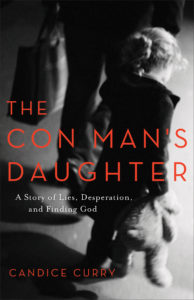 Candice Curry, the author of the book The Con Man's Daughter, spent years working in sales doing what she felt she had to instead of what she wanted to. Then she put her faith in God and gave it all up to share her story through writing. The daughter of a con man and convicted criminal, Candice started a blog as a form of therapy, which has grown into a worldwide ministry and landed her on TODAY and Good Morning America. A speaker and a contributor to The Huffington Post, Today.com, and several other sites, Candice has a passion to give hope to those suffering the pain of rejection, the burden of unforgiveness, and the emptiness of great loss. Candice and her husband, Brandon, have five children and recently welcomed her teenage sister into their home. They live in San Antonio, Texas, in the former home of her childhood best friend. Connect with Candice at http://candicecurry.com/.
Learn more about The Con Man's Daughter.