This book inspired me to make positive changes in my life!"
"It's more of a reference tool—a guide, a manual. It's one of those books you stick on your bedside table and refer to often throughout the ups and downs of life."
"Finally, someone put together a book containing actual tools to help you face life's trials and tribulations. 
"It is not meant to be read and put on your bookshelf, it is meant to be a companion to The Bible."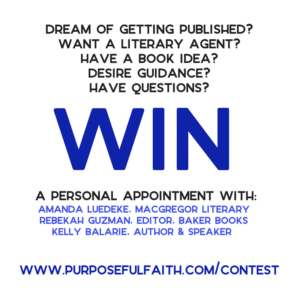 10 Winners will receive (in order of most votes & some at random):
1. A 15-minute Literary Agent Meeting with Amanda Luedeke from MacGregor Literary.
2 Winners!  1 Person will be picked at random, despite the number of votes. The other picked by number of votes.

2. A 15-minute Publishing Appointment with Baker Books editor, Rebekah Guzman.
1 Winner chosen by hightest votes

3. A 15-minute blogging, writing, life-coaching or platform consultation with Kelly Balarie
1 Winner chosen by votes
4. A 45-minute marketing, book or platform consultation with Lindsey Hartz Creative
1 Person who will be chosen randomly
5. A Battle Ready Super-cute Bracelet!!!
5 winners chosen at random
"I was one of the winners in Kelly's contest for Fear Fighting. I chose to talk with her agent, who graciously gave me 45 minutes of advice. This contest helped me pursue my dream of publishing (now I have an agent and a book contract). I encourage you to enter if you dream of getting published someday!"

– Sarah Geringer, last year's winner
How to Enter: 
Write a blog post reflecting on your personal experience/story with the content of Battle Ready by Kelly Balarie. Include an image of the book on your blog post. Add this Amazon link in your post: https://amzn.to/2NbzQrc)
Mention this: "Take the "find your Battle-style quiz and create a personalized daily battle plan at www.iambattleready.com" in your blog post.
Share your blog post by sending it to your email list. Also share on Twitter, Instagram or Facebook. #BattleReadyBook  (Tag Kelly – @kellybalarie)
Add your Battle Ready post to the Linkup button below by Oct. 31.
Get people to vote on your post on this page. People can vote in the comments specifying only the number of the post (with no other words) of the linked-up post. (Please note: only one vote per IP address counts). Please, only write the # in the comments.
Share this linkup page (https://www.purposefulfaith.com/contest/) on Facebook Direct message with friends, via FB posts, Twitter posts, text messages or email. Get as many votes as you can.
If you do items 1-5 above and you have the most amount of votes by Oct.31, you will be able to choose a prize.*
Side note: It would be a huge blessing if you felt compelled to write an Amazon review too (this is entirely separate from the contest).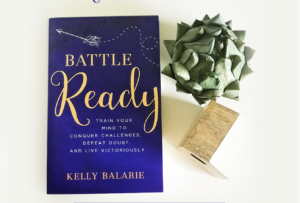 About Amanda Leudeke
Amanda brings unique interests to the MacGregor Literary team. She represents general market and CBA projects, and her areas of focus include nonfiction, literary fiction, romance, some speculative fiction, and twenty-something/post college-aged hip lit (think Joe Meno, Brett McCracken, Brad Land, JD Salinger).
Amanda loves big cities, great music, and snuggly dogs. Though she considers the Chicagoland area to be home, she currently lives in Fort Wayne, Indiana, with her husband and two pups.
About Rebekah Guzman
Senior Acquisitions Editor, Baker Books
http://bakerpublishinggroup.com/bakerbooks
About Kelly Balarie
She loves Jesus, she loves blogging. She is fearing far-less. She is passionate about living all out, without doubt. She's the author of Fear Fighting and Battle Ready. You are on her blog! 🙂
*Prizes will be selected by winners according to order of ranking of votes. Only 1 IP address allowed per vote. Top 4 win. 1 Publisher appointments available. 2 Literary Agent Meetings. 1 Kelly Balarie meeting – to be announced. 15 minute meetings. Contest begins July 12 and ends Oct.31, 2018. Winners to be announced Nov.15.
Loading InLinkz ...