Today, I am delighted to welcome Mary Carver to Purposeful Faith. I love her heart and her unique ability to link faith with the Gilmore Girls! You will love her unique perspective below…
"I'm gonna have to quit drinking coffee, and I love coffee!"
– Rory, The Perfect Dress (Season 6, Episode 11)
Gilmore Girls – or television in general – might not be the first place you'd look for inspiration or encouragement in your faith, but I've found it there. And on top of a list of books to add to my to-read pile and a hankering for Pop Tarts, my favorite TV show has taught me a thing or two about fear and faith.
———
You know things are bad when a Gilmore girl is willing to give up coffee. But that's exactly what Lorelai and Rory, the main characters in the show, do when they're trying to avoid someone who's hurt them. I lost count of how many times Lorelai boycotted Luke's diner after the two of them had argued, and Rory learned from her mom so avoiding her boyfriend Logan (and their mutually loved coffee kiosk) was an obvious choice after a break-up.
Jonah tried ignoring his problems – and God, and that landed him in the belly of a giant fish. Thankfully, my fear has never sent me there, but avoiding people to escape confrontation or further pain has never served me well. Once I missed the baby shower for one of my dear friends because I was too afraid of interacting with the hostess, a former friend of mine who had hurt me deeply. The result wasn't a seafood sauna, but it was a whole lot of disappointment and regret.
When I thought about this – avoiding hard things or difficult people out of fear – I realized that I didn't need to rack my brain for more personal examples. I simply needed to rewind to the day I began writing my devotional last fall.
After getting one daughter off to school and the other to the babysitter, I opened a new document and began to … think of all the reasons I couldn't write yet. I got up and washed some dishes, then moved upstairs to clean my bathroom sink. As long-time hater of all things housework, I was obviously procrastinating this project I was supposedly so excited to begin.
I shouldn't have been surprised (although procrastination via cleaning is a new variation on a common theme). Though I call myself a writer, I actually find writing a terrifying act of vulnerability and risk. So typical, this tortured writer's insecurity. And also? So similar to what our Gilmore friends did every time they avoided they people they loved but also feared.
Running away and avoiding people and places and projects is messy. It's foolish. And it inevitably hurts us much more than it protects us. Even without the siren call of coffee, that is enough for me to remember God's promises to be with us when we face our fears. We don't have to be afraid, because the Creator of the universe is for us and with us.
What – or who – are you avoiding today? Do you think God will abandon you now? No! He will never leave you or forsake you. Today I challenge you – and me – to take one step of faith, make one move of bravery. Let's stop hiding from our fears and begin to face them, knowing God is with us every step of the way. And, for the love of Gilmores, don't give up your coffee!
"For God has not given us a spirit of fear and timidity, but of power, love, and self-discipline."
– 2 Timothy 1:7
About Mary: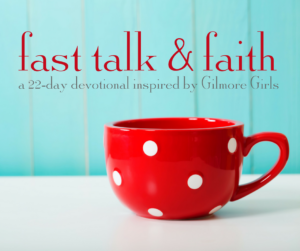 Mary Carver is a writer, speaker, and author of Fast Talk & Faith: A 22-Day Devotional Inspired by Gilmore Girls. She lives for good books, spicy queso, and television marathons, but she lives because of God's grace. Mary writes with humor and honesty about giving up on perfect and finding truth in unexpected places on her blog, MaryCarver.com. She is also a regular contributor to incourage.me, MomAdvice.com, and MothersofDaughters.com. Mary and her husband live in Kansas City with their two daughters.