Post by Katie M. Reid
I didn't know her well, although I suspected she was a kindred spirit. We shared similar titles of: worship leader, songwriter, adoptive mama, and blogger. Yet mostly, we shared the byline, "Daughter of the King."
We broke soul bread over tea, smoothies and scones. Preferring heart talk to small talk, we dug in. Nuggets of gold emerged as we shared stories of God's faithfulness at the table. Right there in Panera, we had church as we testified to the goodness of our Father and uplifted each other with words of hope.
She shared about victory. I shared about grace. And we learned from each other's hangups and breakthroughs.
I thought I had her pegged, until she shared how she feared being seen. Even though her ministry and creativity were public, she preferred to hide and blend in.
I, on the other hand, confessed my fear of being invisible. Being overlooked, forgotten, or ordinary are what I run from. I usually want to stand out, to speak up, and be seen.
It sounds bad, I know, but this is a place for authenticity, right? And my hunch is I'm not alone. And neither is my friend.
Some of us fear being visible. Others of us fear being hidden. And sometimes we fear both.
If I blend in, will I become invisible?
If I stand out, will I be embarrassed?
I fear both invisibility and embarrassment.
Concealed and Exposed
It's vulnerable to feel exposed—to be paraded in front of others and scrutinized for how we look, act, and what we say. We wonder if we have spinach between our teeth (or chocolate cookies stuck to our molars) as we offer the message that's been entrusted to us. Will they laugh at us? Will they listen? Will the insecurities show through our coordinating ensemble?
You don't have to rely on the fleeting acceptance of man. God's acceptance is rock-solid. #fearfightingbook
It's lonely to feel concealed—to be masked from view and not really feel known or understood. We wonder if who we are is enough and fear what might happen if we are called upon to share. Will they laugh at us? Will they listen? Will the pounding heart and wobbly knees show through our security blanket?
Are we the women people fight to have by their side? Or are we busy trying to run and hide? #fearfightingbook
Not Alone
Fear could have kept my friend and I from meeting that evening, but we pushed past it, and we both left richer.
She didn't hide, and through her brave words, I began to see more clearly. I didn't conceal that which embarrassed me, and with courage, I did not edit my imperfections.
Two fear fighting women met for bread and drink and Hope showed up.
Jesus' body was broken and His blood was spilled on our behalf. He showed up and we are never the same.
We are not alone. We can overcome that which threatens to conceal and expose us, because Jesus has already overcome! He uncovered our sin and provided a way for it to be removed.
Jesus exposed His great love for us by dying for our sins. He has given us everything we need to be victorious. His Holy Spirit is the greatest fear fighting tool, and we carry it within us.
We are not alone on this journey. We are not orphans. We are daughters. We belong in this Kingdom and we are seen and understood by our King.
We lay down our fight to be visible.
We resign our efforts to be invisible.
We rise. We fly. Because He has restored that which tries to snuff us and stop us.
Discover how to flee from fear and fly in faith through 4 Days to Fearless Challenge. Or, order Kelly's powerful book, Fear Fighting: Awakening Courage to Overcome Your Fears, today!
Get all the Purposeful Faith blog posts by email – click here.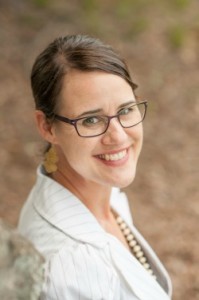 Katie M. Reid is a writer and speaker who encourages others to find grace in the unraveling of life. She also inspires women to embrace their identity in Christ and live out their God-given purpose. Katie delights in her hubby, five children, and their life in ministry. Cut-to-the-chase conversation over hot or iced tea is one of her favorite things.
Connect with Katie at katiemreid.com and on Twitter and Facebook.