I'm delighted Patricia Holbrook is hosting the linkup today! Patricia is faithful in her calling. She is honest and transparent. She has a story that will meet your heart in its dry places. 
Leave a comment for a chance to win a copy of Patricia's book, 12 Inches!
The Lord said to Gideon, "I will deliver you with the 300 men who lapped and will give the Midianites into your hands; so let all the other people go, each man to his home." Judges 7:7
It was Friday night. I absently stared at the TV, thinking about how lonely I felt. Looking through my phone book, I knew that the options were not good. Friends who would be available on a Friday night would quickly offer me a tour back into my life before Christ… Places I knew not to visit anymore.
My new Christian friends were all busy with their husbands and family. It was me, my TV… and… my Bible. I glanced down and picked it up.
A new Christian, I had heard that Jesus was all I needed, but was unsure of how to let Him fill the void.
I surrendered my life to Christ only months before, and experienced unprecedented joy and peace. I spent the following weeks and months on a spiritual high, attending a new Christian discipleship class, prayer meetings and various church functions.
Yes, I made several new friends, but they were, well… new. And most of them were married, anyway. Loneliness filled my heart on the weekends. That particular weekend was the hardest of all.
As I held my Bible, tears streamed down my face. One of my best friends of eight years had turned her back on me.
Betrayal. Pain. Confusion.
The last drop in the bucket.
"Jesus, I thought you would fill my life, not empty it!" I cried out.
It was there, lying on my couch, that I heard His voice, whispering in my heart for the first time.
"I am preparing the soil for new sowing. For a new harvest."
It was then that I saw it. I had a vision. As in a dream, I saw a large, bare field. The soil showed places where trees once stood. It was desolate-looking. Ugly, even.
Then I saw seeds coming down from Heaven, falling inside each hole on the ground. And finally, I saw the same field, green and full of beautiful, tall trees.
"Behold, I am making all things new," I heard.
Twenty Years have gone by since that day…
And I behold the harvest.
I can close my eyes and see the faces.
My husband, our two daughters and wonderful, faithful friends throughout the years, planted in the field of my life. Besides one very best friend from my youth and my immediate family, they are all new.
They all have been planted by Yahweh's faithful hands. And they have flourished and yielded fruits of joy, peace, love, patience… true friendship. True Love.
I stand amazed.
The vision was hard to believe at the time when loneliness filled my days. When God removed what I thought was true love… and those whom I considered real friends.
He plucked them all, one by one, and left me wondering whether I'd ever feel loved again.
But before He planted a new harvest in my life, He had to teach me to make Jesus my all in all. He wanted to become my very best friend.
Instead of giving in to the feelings of loneliness and depression, I sought His face.
I made the Bible my greatest companion. I woke up in the middle of the night to talk to my Savior and started serving Him at church. And before I realized it, He started planting beautiful new seeds into my life.
God showed me that, just as He gave Gideon victory over mighty enemies with a small army of faithful servants, His children don't need 10,000 soldiers to win life's battles.
When God is in control, He weeds out the unfaithful, and fills in the void in our lives with the 300 faithful few.
In.His.time.
Gideon was afraid of not having enough. He couldn't see how he would defeat his powerful enemy with such a small army.
You may not see how your life can continue without a particular person. Or how you can give up your old friends and still have joy. I challenge you to trust Him. Trust that He is weeding out the unfaithful, cleaning out the soil, preparing it to yield a new harvest.
All He needs is your heart. Your surrendered trust.
I promise that one day you'll stand amazed, as you contemplate the lush green fields that Yahweh will plant on your current bare land. As you give yourself to Him, believe me: He will give it all back to you.
Pressed down, shaken together and running over.
Because that is the kind of Friend He is.
Just trust His pruning. Trust His plucking. He only cuts out what doesn't belong, anyway.
*This blog post is an excerpt from Patricia's Book: Twelve Inches: Bridging the gap between what you know about God and how you feel."
***Comment for a chance to win a copy of the book!  Also, share Patricia's words on social media!
Visit the book page: www.soaringwithHim.com/Twelve-Inches
ABOUT PATRICIA: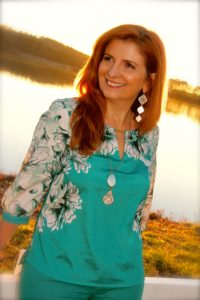 Patricia Holbrook is the President of Soaring with Him Ministries, author, columnist, blogger, wife and mom. Her passion is to encourage her audience to "soar above life's circumstances" by the power of God's Word and the Holy Spirit's guidance. She writes about making beauty out of brokenness, trusting God in the dark, the blessings of obedience and her love for the Savior.
Among other places, you can find her writing weekly on her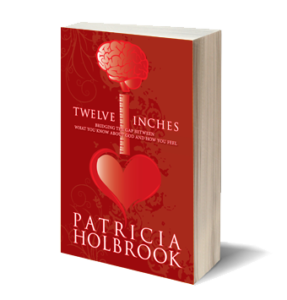 blog, www.soaringwithHim.com. on her weekend column for the Atlanta Journal Constitution www.ajc.com, on iDisciple.org and websites such as Internet Devotions Cafe, among others. Patricia is also a national and international speaker for women's events.
Get all the Purposeful Faith blog posts by email – click here.
Loading InLinkz ...