What if your power to move ahead, was in stepping back? What is not pressing ahead, but sitting out?
I recently heard a story that captured me. A group of All-star basketball players went to meet an elite coach. His instruction was that they step back; he wanted to re-structure their basketball shot. The mechanics and technique of their shooting arm needed to be entirely reworked to take them to the pro level. For this change to happen, they'd have to go back to the drawing board for 3 months. They'd need to essentially sit it out on the sidelines as they learned a new way.
The sad part was many of the players couldn't, or wouldn't do this. They wouldn't listen to the coach. They didn't want to lose thier all-star status.
Yet, what they didn't realize was to compete on the next big stage, they needed this new skill. The coach knew: refinement was required.
A rich man essentially said to Jesus, "I've followed your commands. Now, Jesus, what do I still lack?"
Jesus replied, "If you want to be perfect, go, sell your possessions and give to the poor, and you will have treasure in heaven. Then come, follow me." (Mt. 19:21)
To get ahead, we sometimes have to go back.
To follow, we sometimes have to give away.
To move forward, we must release.
To meet with God, we relinquish other important things even if it appears we will be set back, halted or we will lose out.
I don't like moving backward. In fact, I believe so much in the message God wrote in the book, Battle Ready, these days, I want to keep working harder to make sure every person in need gets a copy. I believe in the transformation I am seeing happening in people's lives. I see how mindsets are being renewed. I want to push, push, push…and get Jesus' message out far and wide.
Yet, still, God whispers: Kelly, rest. Trust me (even if it feels like you are moving backward). Surrender.
To not strive, to not push, to not do anything….feels like I'll lose what God is giving me. It feels like I'll fail. It makes me feel nervous.
But, God never leaves us behind. Surrender never counts us "out."
The truth is we only follow Jesus, when we follow him. We only can go where He is going, when we obey. It's not easy to follow with the world on our shoulders. Nor can we follow when we clench our history and won't let go of it. Following doesn't look like demanding results.
Today, if it looks like you are moving backward, be encouraged. Christ did not bring you this far to drop you on your face, to leave you behind, to fail you, to discourage you or to hurt you. He brought you to this place to love you, to equip you, to ready you, to prepare you and to be with you.
Time spent reworking your life is not a waste. Time spent with kids is not idle. Time spent praying is not inconsequential. Time spent seeking answers is not useless. Time spent sitting at Jesus' feet is not without merit.
Move backward and see Jesus change the trajectory of everything as you move forward. God is good and He truly does have goodness for you.
Women who are battle ready know this – and live it.
Learn more about the book, Battle Ready: Train your Mind to Conquer Challenges, Defeat Doubt and Live Victoriously.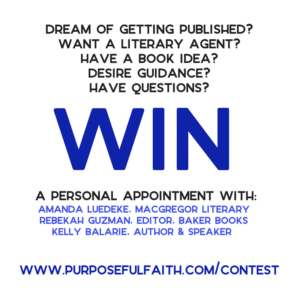 Get all Purposeful Faith blog posts by email – click here.
BLOGGERS, 4 Winners will receive (in order of votes):
1. A 15-minute Literary Agent Meeting with Amanda Luedeke from MacGregor Literary. (2 People)
2. A 15-minute Publishing Appointment with Baker Books editor, Rebekah Guzman. (1 Person)
3. A 15-minute blogging, writing, life-coaching or platform consultation with Kelly Balarie (1 Person)
Learn more about the Battle Ready Contest.
Loading InLinkz ...