This random Saturday morning, I had no idea that being stuck in NYC traffic was going to teach me a life-changing lesson on how to take charge of your expectations…
When my son laid eyes on just about the biggest big rig ever seen, his eyes light up as bright as a kid on Christmas morning.
"Roll the window down!" he yelled.
With utter urgency, his little fist started pumping – up and down, up and down. This would have been really cute, except for the fact that I was contending with New York City stop-and-go traffic.
Getting directly next to this truck was going to be a feat in itself.  With 2 kids sitting in the backseat on the verge of tears and on the brink of disaster, I knew what I had to do.
"Super Mommy" needed to come to the rescue – in a big way!  
Nothing would stop me from making my little boy's dreams come true.
Finally, after much breaking and accelerating, I got my son in perfect hand thrusting position! Yes!
The driver was delighted.  Mikey was delighted.  I was delighted.  Everyone was happy.  We all shared a moment of fun as the truck let out a massive "honk!".  Victory! Happiness! Joy!  The truck driver and I threw out some quick pleasantries, a couple of laughs and then he kept on truckin'.
Meanwhile, on one of the busiest freeways of NYC, I was guilty of the unthinkable!  I let two cars slip into line in front of me.  I inadvertently left open the tiniest of gaps on a freeway where most people don't give you an inch.  And, in true New York fashion, these opportunist drivers took advantage of my gap.
Our final moments of celebration were cut short when the SUV behind us pulled his car right next to ours.  With a red face and a quickly moving mouth, he signaled me to roll down my window.
Anxiety welled up in me. I knew what was coming. Afraid, I rolled down my window down.
His anger was palpable, "What is wrong with you?  You let two cars get in front of you!  What are you doing? Pay attention lady!"
Peace I leave with you; my peace I give you. I do not give to you as the world gives. Do not let your hearts be troubled and do not be afraid. (John 14:27)
Some way, some how, God gave me peace as I responded to this man.  He needed peace. So peace I gave him, not as the world gives.
I felt for him.
In his own attempt to get ahead, to be effective and efficient, he turned into a mad man. The irony of the situation is that, after he yelled at me, he cut up the line and gained a significant head, but as traffic freed, much to my discomfort, we still ended up side by side further down the road.  All his maneuvering made no difference in his ultimate progress.
We can make our plans, but the LORD determines our steps. (Proverbs 16:9 NLT) 
In his quest to rush, to get ahead and to power through, he got nowhere. His impatience didn't propel him forward; it landed him right where he would have been if he had kept his cool.
How often are we like this man?  How often do we have expectations that rule us?
Expectations Can Drive Us Mad
You may be thinking, I would never be like "that"! But, I find I'm guilty of being a "mad woman" too.  I often take measures into my own hands to get things "accomplished".  I rush to get to my "destination", only to get frustrated when others hold me back.  I "speed" to the least populated checkout lines at the store and become agitated when the cashier is the "slow" one.  I rush through bedtime stories with my son, in order to arrive at my "chill time".
Unsaid expectations can rule me.  I think, "How dare "that person" mess up "my plans", get in "my way" or "hold me" back?"
These expectations leave me sad, upset and irritated when things don't go my way.
Are expectations just demands wrapped in a bow to cover their ugliness?  Is God even present in these demands?  Or, is he just the one we feel upset at when we don't get our way?
How To Take Charge of your Expectations
God doesn't give us what we want. He doesn't answer us.  He doesn't hear us.  And, others hinder our success. They block our lane.  They get us "stuck".
With all this focus on our personal progress, we miss big opportunities.  The opportunity to love.  The opportunity to serve.  The opportunity to encourage.  The opportunity to witness, to see God's glory and to understand truth.    Why?  Because our one-track mind speeds to our destination of choice – and the needs of others become the red lights that stop us.
What are your destinations? Maybe it's education, maybe it's a ministry, maybe it's getting your kids into the best schools, maybe its your comfort, maybe its saving money, maybe it's climbing the professional ladder, looking great for a playgroup, decorating your house, taking care of your yard, buying that house or (fill in the blank).
Are you missing the journey, the glory, and the people who need you?
Let's not drive in vain.
Let's slow down and see the scenery that God has set before us.
Let's take a minute to look around,
soak it in and delight in the glory the Lord is displaying.
 Jesus said to her, "Did I not tell you that if you believed you would see the glory of God?" (John 11:40)
The truth is God hasn't – and won't – forget about us.  He knows our dreams, our hopes and our wishes.  He knows what we hope for.  He knows us. We don't need to rev up our cars and fill up our tanks in vain – he has an unlimited supply of gas for us, when we trust him.    He will get us where we want to go- in his timing.   Do you trust Him?
And my God will supply every need of yours according to his riches in glory in Christ Jesus. (Philippians 4:19)
When we let go of our need for speed, we will be freed-
freed to love, freed to experience peace and freed to see Him work.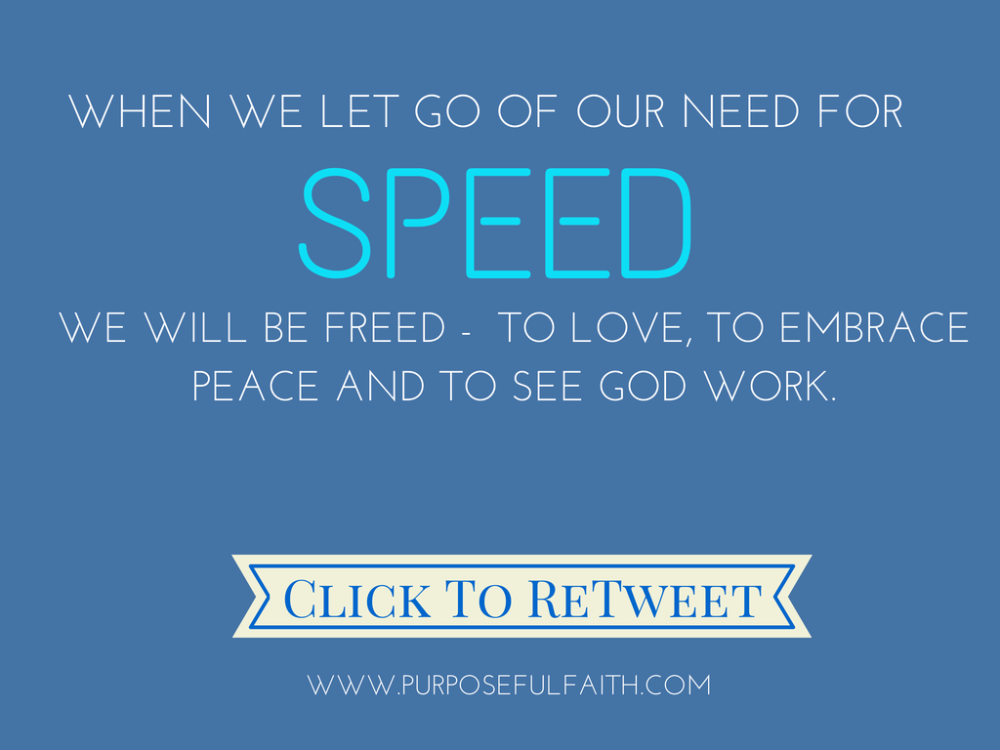 God has something special prepared for us in the midst of our "traffic".  If you feel like you are stuck and you don't know how to take charge of your expectations – the answer is that you don't take charge. Instead, you let go of your will and surrender to His.
He will take care of you.  He sees you.  He has big plans for you – for his glory.
Come to me, all who labor and are heavy laden, and I will give you rest. (Matt. 11:28)
Release your expectations into His Hands.  To Take Charge of Your Expectations – you let him take charge.
You will be amazed at what He does.
Other Resources on Expectations:
When God Doesn't Meet Your Expectations
Jesus: King of Unmet Expecatations