Guest Post by: Julie Loos
As I sat in the cold metal chair in my Oshkosh B'Gosh overall shorts and red flip-flops, I nonchalantly chewed on my fingernails. The waiting area was chilly even though outside, you could fry an egg on the sidewalk. I folded my legs under my bottom on the chair and hoped for warmer.
While I waited, thoughts tumbled in my head like the clothes in the dryer. Worst-case scenarios were tugging at my ten-year-old heart. I didn't comprehend why I was here other than I was naughty and if I didn't behave, I would live with another family.
My palms began to sweat, my legs became weak, and I thought I might get sick.
Even though my worst-case scenario didn't happen, in some ways it already had.
Those who were supposed to love me unconditionally made it contingent on my behavior. The people I could trust deceived me.
As a child, I was alone and abandoned, although not in the physical sense. I grew up believing I couldn't trust anyone. I learned to become a people pleaser. I made every attempt to control situations around me. Defective was how I looked at myself.
Right there, I decided God was just like everyone else. If I broke His rules or failed to live up to His standards, He'd eventually figure me out and desert me too.
Here's the thing. The stress trying to keep me together so no one could hurt me again was hard work.
Fear from my past kept me from the possibilities of my future.
I wish God would change my past and remove these gaping heart holes. My anxiety tells me it will never change. I will end up alone and abandoned.
The truth is that God already made a new way for me through the wounds of the past.
Each hard thing was a step I needed to become the person He created me to be.
God can do the same for you. He can make a way when there seems no way. He can help you overcome what looks impenetrable.
Will you trust Him and believe He can make all things new?
Are you so focused on the pain in the past that you are missing the blessings of the present?
He is able if you are willing.
Even though I have grown up physically, the little girl part of my heart still longs for the acceptance and love of those around her. In those moments when my mind returns to that waiting room of my past, God applies His healing ointment to my heart and whispers to me, "I am here, I love you, and I am trustworthy."
And He has been there through each step of my journey, both in good times and bad, mending the holes and wounds within. I know someday my heart will be mended up entirely, right in His presence.
Get all Purposeful Faith blog posts by email – click here.
About Julie Loos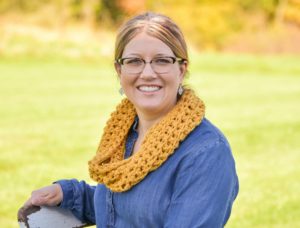 Julie Loos is the mom of 5 kids and has been happily married to Greg for 17 years. She loves to read, eat chocolate, drink iced tea and spend time writing in the midst of messes. You can find her blog at www.unmaskingthemess.com.