I am more than delighted to welcome a true woman of the Lord, Karina, to the Purposeful Faith blog. From the minute I met her, I could see love, joy and passion written all over her. Karina is an example of transparency and authentic pursuit of God. I couldn't be more happy to have her on Purposeful Faith as a regular contributor. I hope you enjoy her heart as much as I do.
I have this struggle. I'm sure I am probably the only person who struggles with this issue. I kind of, sort of, maybe, like to be in control. Just a little bit. When a say a little, I mean a lot!
The last 6 months or so have been a bit paradoxical in nature. What I mean is that many amazing things have happened to me! I went out of town several times, have had a few exciting writing opportunities, connected with dear friends and met some new ones! During those exact same months, I have been searching for a roommate. I'm 35 and single and living alone is ridiculously expensive. I normally have a sense from God in which direction to go in when making decisions, but this time around, I had no direction.
I, under no circumstances, like the way that feels! I did my part. I exhausted every avenue to find a roommate and searched high and low for other housing. Nothing made sense. Countless options came and went. No other housing option fit my budget. Again, still no direction. My sweet friend Holly prayed for me one night a couple of months ago after small group. She told me the Lord wanted me to know that this situation was not my fault. I hadn't done anything wrong. That filled me with such peace and yet still, there was no direction.
Over the past few weeks, the Lord has been so faithful to remind me of the truths that I so easily forget.
For my thoughts are not your thoughts, neither are your ways my ways, declares the Lord.
For as the heavens are higher than the earth,
so are my ways higher than your ways and my thoughts than your thoughts.
Isaiah 55:8-9
God is God. I am not. He is omniscient.
He know all things…the past, the present and the future. His timing and mine are rarely the same thing. After all, He is the one who created time itself. I can effortlessly believe the lie that what I see is all there is or that my time line is perfect. That is NEVER the case. There is a great deal happening in the supernatural that I cannot see and may never see. I am learning to embrace the mystery in knowing God and trusting His ways and His heart especially when I can't see Him at work.
And we know that for those who love God all things work together for good,
for those who are called according to his purpose.
Romans 8:28
The never changing truth is that God loves me deeply and He loves you deeply. What He does or doesn't do, what He says or doesn't say is always for our good. That is what He does and who He is as our Heavenly Father. He doesn't send pain or suffering or doubt or confusion. Every good and perfect gift comes from Him. When our circumstances are not good and perfect, it breaks His heart. And His desire is to come in and bring healing, purpose and restoration to our lives. I am learning to let Him do just that.
Are you? Is there an area of your life where you have been believing the myth that you are in control?
Get all Purposeful Faith blog posts by email – click here.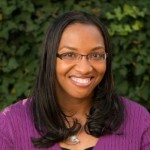 Karina is a devoted follower of Jesus from New Orleans, Louisiana, but has made her home in Baton Rouge for the past 15 years. She spends much of her time leading worship at church, writing, reading, dancing and mentoring the next generation. She has a huge heart for serving and missions. She is an advocate for the local church especially the one that she attends, Healing Place Church. She also enjoys working out, traveling, photography and going to concerts/conferences.
Karina believes that every woman has a God-sized dream on the inside of them and it is up to an encouraging community to help nurture that dream. Her goal in writing is to see women get a revelation of God's Word and discover how to apply it to their lives in order to walk in freedom and live the life that God intended. But the most important thing to her is to live out the call of Isaiah 26:8…For His Name and His Renown are the desire of our souls! You can connect with her at "For His Name and His Renown."