When I heard the bloodcurdling scream, worry welled up in me.
When I saw the agony on her face, anxiety overwhelmed me.
When I analyzed the deep gash across her toe, guilt washed over me.
Could you imagine being the one to cause your baby girl so much pain?
The one to crush an innocent toe into a slamming door.
It was me who did this.
Pain  – all I could see was all the pain I caused.
Pain as she got stitches.
Pain as we found out it was broken.
Pain as she looked up at mommy.
Pain as she longingly looked to be saved.
Pain as I saw her tears coming down.
Pain as I noticed her toenail was gone.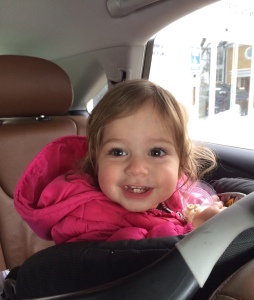 I left the hospital with a damaged baby and a bag full of guilt.
How could I?
Why did I?
I knew that I needed to come to terms with this. I knew that Jesus tells us to forgive – ourselves included. I knew that this was an accident – but still…
What do you have for me God?
But God demonstrates his own love for us in this: While we were still sinners, Christ died for us. (Romans 5:8)
He died for BIG wrongs, BIG mistakes and BIG traumas.
For the ones who, without him,
could never find consolation, reparation or exoneration.
For the ones who, without him, deserve nothing but condemnation.
And, this is me. I am this kind of sinner. Not just in this case, but in so many shameful ways.
Jesus agrees.

He agrees, but he doesn't cast shame or blame.
He agrees, but doesn't make me retreat in defeat.
He agrees, but rather than enslave, he saves.
He removes the enslaving power of shame, guilt and regret – and replaces it with love.
A love that is victorious and makes us glorious.
A love that showers compassion, with passion.
A love that doesn't end, but mends.
Much like me with my daughter:
Jesus cries over our pain.
He so deeply desires to wipe every tear away.
Jesus stands ready to save our day.
And, much like I cried over her trial and her agony, Jesus cries over mine.
But, Christ went to one place I can never go. He went one distance I can never cover. He went to one length that sealed the definition of  "love": He took my place. He stepped in. He absorbed all the wrath, torment and agony that was set aside for me.
He did this so I could be forgiven (and so that we could forgive others).
Who am I to take that away from him?
Who am I to negate the incredible sin load that he suffered?
Who am I to think that the power of my enslaving sin could overcome the power of my life-giving Savior?
When we can't forgive, we are essentially are saying
that we have more power than the cross of Jesus Christ.
We are saying that our sin is greater than our Savior.
That our actions are more weighty than his.
That our inability to forgive is greater than his ability to love.
Because he forgave, we take eternal forgiveness to the grave.  Because he is mighty to save, we are no longer enslaved. Because he rose out of that cave, we can all be brave.
There is no arguing with that.
Get all Purposeful Faith blog posts by email – click here!

Click the image above to hear a 1-minute word to the #RaRalinkup crew!
Loading InLinkz ...