Post by Abby McDonald
Today we're saying goodbye to one of the oldest members of our family. She doesn't wear human skin or express herself in many syllables, but she's loved just the same.
She's the four-legged kind. A blondie. A dear friend named Coco.
She and our other mutt brought my husband and I together thirteen years ago with their mutual love for walks and chasing furry creatures. And as they say, well, the rest is history.
Since I'm pregnant and rather hormonal the realization that our companion is dying hit me rather hard. But I believe during those hard seasons God often speaks the loudest, sometimes in the most unexpected ways.
As my husband wrapped his arms around me and my round belly this morning, I reflected,
"It's amazing how God speaks to us through our animals."
I'd been observing our two girls over the past couple of days. Our other dog, Zoe, knew something was up and her disposition had changed. She'd become more affectionate, more calm, wanting to be near us often.
One day I let both of them out on our back porch while I cleaned. After about a half hour, I peeked through the window. Coco laid on the doormat, like she always does, and Zoe reclined behind her, practically spooning her with her legs.
She stayed in the same position until I let them inside, only leaving Coco's side for an occasional drink of water. It was as though she was saying, "I'm here for you, girl. It's okay."
But she didn't need words to say it. Her presence was enough.
As I thought about these mutts who started our family, I realized how often I use words to fill the empty spaces of grief. Not because they're needed, but because I think they are. I have friends and family members who are walking through difficulties much harder than a dying pet, and the silence of sadness can be awkward.
I focus on myself and my need to fill the void rather than the grieving person's need to simply know I'm there. To know I'm not going anywhere, and that the discomfort of grief won't keep me from loving them.
When it comes to grief, silence always speaks louder than empty words.
Sometimes a hug goes further than a platitude and a listening ear further than a trite explanation.
"Then they sat on the ground with him for seven days and seven nights. No one said a word to him, because they saw how great his suffering was." Job 2:13 NIV
When we can't mouth the words to Jesus because of the weight of our sadness, He still hears us. He's that good of a Savior and a friend.
Job's friends modeled the behavior of Jesus himself when he encountered those who were grieving a deep loss. If we look into the scriptures and walk through the chapter of his life where a close friend died, we see that his words were few. And even though he foresaw the miracle, he wept. (John 11:25)
Today as I run my fingers through my companion's soft fur for the last few times and reflect on these verses, I know my love for words won't change. I'll keep offering them up as praise, encouragement, and a gift at the altar of the One who gave them to me.
But I pray God will give me wisdom to know when words are weak. Because even when I have nothing to say, his healing power is still strong.
Get all Purposeful Faith blog posts by email – click here.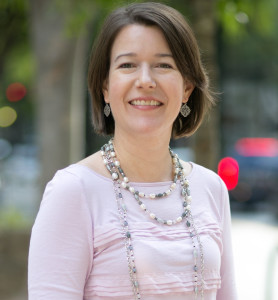 Abby McDonald is a writer who can't contain the lavish love of a God who relentlessly pursues here, even during her darkest times. When she's not chasing her two little boys around, she loves hiking, photography, and consuming copious amounts of coffee with friends.
Abby would love to connect with you on her blog, Twitter, and Facebook.