Driving in Texas, I saw a tow truck with tow lift in the back that looked much like a cross.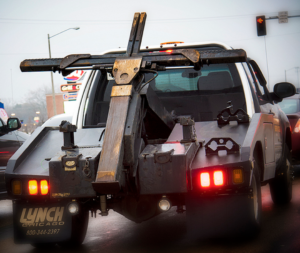 It reminded me: With Jesus, we're never stalled.  Jesus who was high and lifted also lifts us and carries us to safety.
For he will command his angels concerning you
    to guard you in all your ways;
 they will lift you up in their hands,
    so that you will not strike your foot against a stone. Ps. 91:11-12
For in the day of trouble
    he will keep me safe in his dwelling;
he will hide me in the shelter of his sacred tent
    and set me high upon a rock… Ps. 27:5
Jesus is our ever-present tow truck…He carries us, in his power to where we were meant to go. He delivers us to safety when we let Him bring us.
Just think, when life stalls, Jesus is our hope.
When we feel we might break down, he waits for us.
When we are quite certain we just got our self into a car crash –
he lifts us above the shattered glass and broken metal – to safety.
When we feel down and out, he lifts our spirits up as we seek an eternal view of our problems.
Where does your life feel stalled? Broken? Injured? Unrecoverable.
You know, when I was about 17, I totaled my parent's van. It wasn't my fault – a Mac truck hit me. My gas chamber exploded on impact and, when the police arrived, the said they were surprised I was alive. They said that the car should have exploded – with me in it. Things reeked of gas.
My van got towed away. I stood there.
We never know the small ways God is saving us, the ways he is towing us to something greater.
But, every day, we can choose faith. Faith that says: Father, daddy, I believe that you have a plan in my heartache and a plan through my pain.
For the fact of the matter is – if you're still breathing, God is still purposing to use you. If you are still waking in the morning, he is still working. And, if you are still moving, he is guarding you.
Do not lose hope. Don't lose faith. And, certainly, don't give up.
God is towing you to straight into deliverance – whether on earth or in heaven. Hope in him and his great power to lift us, really, can never be lost.
Kelly's new book, Fear Fighting: Awakening Courage to Overcome Your Fears has been called "A must read," "Breathtakingly honest" and a "Great Toolbox to Overcome Fear." Read it today.
Discover how to flee from fear and fly in faith through 4 Days to Fearless Challenge.
Get all the Purposeful Faith blog posts by email – click here.