"God, take the decision out of my hands."
I didn't say the prayer out loud, but I may as well have. For months, I had gone back and forth over a life-altering choice that would change our family forever: whether or not to have another baby.
And every time I thought I'd decided, the endless trail of what-ifs froze me in my tracks. What if we lost the baby? I'd reached the age some doctors consider "high risk", so what if the baby was born with a birth defect? Of course, I'd have to have another surgery and what if it didn't go well?
So instead of making a decision, I remained in a state of inertia. The unknowns loomed over me like an unpredictable storm, and I my feet were stationary.
One day in early spring, something shifted. My mama instincts kicked in and I knew the possibility of new life was real. I could taste it. Fear and excitement overwhelmed me in alternating waves, and I spent the morning waiting to buy the test confirming my suspicions were right.
God handed us this gift of life and said, "Here. I know the desires of your heart."
Sometimes, God knows what we need better than we do.
We try our best to protect our hearts, but he simply wants us to trust Him.
"There is no fear in love. But perfect love drives out fear, because fear has to do with punishment. The one who fears is not made perfect in love." 1 John 4:18 NIV
He wants to give us good and perfect gifts, but we're often clenching our fists too tightly to receive them. We move around the spheres of our lives, thinking if we can hold onto the gifts we have we will be happy, but God wants to give us so much more.
We have to keep our hands open to receive what he has for us. And as I watched the colors on the stick change and the clear positive sign appear, it was as though God was saying, "I am for you, child. I am not against you."
I know there are still a lot of ifs on the road ahead of us. Every morning when I wake up, they try to overtake my thoughts like the steam engine that courses through our town at regular intervals.
But when the darkness of the unknown hits, I repeat this truth over and over: My God is for me. He is not against me. Do you believe he is for you too?
If we live our lives stuck in a state of what if, our what ifs will become could-have-beens. And I don't want to live my life that way.
I want to live a life fueled by the One who never settled for safe.
As this new spirit continues to grow inside of me, so does the passion to move forward into unchartered waters. It may not always be easy, but heaven knows it will be an adventure.
Will you take his hand and come with me? I'll see you past the break tide.
Get all Purposeful Faith blog posts by email – click here.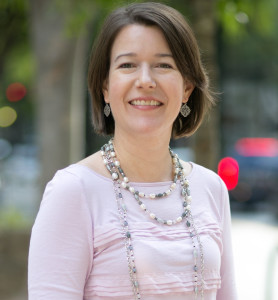 Abby McDonald is a writer who can't contain the lavish love of a God who relentlessly pursues her, even during her darkest times. When she's not chasing her two little boys around, she loves hiking, photography, and consuming copious amounts of coffee with friends.
Abby would love to connect with you on her blog, Twitter, and Facebook.