Post By: Angela Parlin
I used to think I didn't struggle much with worry.
And then I became a Mom a decade ago. Suddenly there were so many what ifs to contend with. My imagination easily ran off to terrifying places, thinking two steps ahead of them, often fearing the worst.
Sometimes still, I get caught up in a whirlwind of worry, even though I know I don't get to control things. Even though my trust in God has grown.
Shakespeare said cowards die a thousand deaths, and the brave die only one. I've heard a variation of his quote, which rings true for me:
"Some people die a thousand deaths before they die one."
(Author Unknown)
I know the truth of my thoughts and my imaginations. I don't tend toward bravery, but fear. How many deaths have I died in my head, or how many deaths have I feared for my loved ones?
What about you? Do you get trapped in worry? Have you grieved for those you haven't even lost? Do you try to figure out the future, even though you have no power there?
When I'm stuck in worry, my best response is to turn each concern into a prayer, and to listen.
I am God, He says.
I am a good God, He says.
Trust me, He says.
He calls me to hand over all of my concerns to Him, each time they find their way back into my mind.
He calls me to bring my life before Him, to bring my loved ones' lives before Him, day after day, and to place them in His hands.
He calls me to come to Him in prayer, to lay out the pieces of my life, to entrust it all to Him.
He calls you to all of the same.
When worry takes over, what we need most is to find our way back to the quiet, to fix our eyes upon Jesus once more. There, He speaks kindly to us, transforming and renewing our minds.
There, peace takes over, and worry morphs into trust.
We stop trying to carry our hurts, our struggles, our pain on our own.
We stop trying to bear our burdens–both our real ones and our imaginary ones–apart from the God who holds the whole world in His hands.
And when the worries return, as they often do, the Lord invites us to trust Him again, because He is God and He is good.
Some people die a thousand deaths before they die one, and I don't want to be that person anymore. Lord, help us to live in peace instead of worry, to trust you with all the pieces of our lives.
Let the peace of Christ rule in your hearts, since as members of one body you were called to peace. And be thankful. Colossians 3:15
Peace I leave with you, my peace I give you; I do not give to you as the world gives. Do not let your hearts be troubled, and do not be afraid. John 14:27
Easy Subscribe!

Get all Purposeful Faith blog posts by email – click here!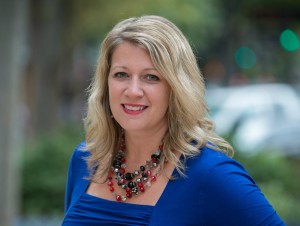 Angela Parlin is a wife and mom to 3 rowdy boys and 1 sweet girl. In addition to spending time with friends and family, she loves to read and write, spend days at the beach, watch romantic comedies, and organize closets. But most of all, she loves Jesus and writes to call attention to the beauty of life in Christ, even when that life collaborates with chaos. Join her at www.angelaparlin.com, So Much Beauty In All This Chaos.