Today, I am delighted to welcome Suzanne Vel from Christian Fellowship Church in Virginia for our Ministry Monday Series. Clearly, God brought our paths together, for Suzanne has a powerful story and a message to be shared. I hope you enjoy it!
"You have everything you need to have freedom and you aren't doing anything with it."  God wasn't yelling at me, or condemning me. He was just calmly encouraging me.
To give some background, at a recent family reunion, I had listened in on a conversation where my husband was explaining to a cousin that our church had started encouraging people to experience God's presence through a daily quiet time and that the end result was true, personal freedom.
This got me thinking…
My cousin's heartfelt response was, "freedom that's what I want!"  But, it wasn't until the very next morning that God spoke into my spirit and encouraged me to get started.
Due simply to my desire to be obedient to God's prompting, I started. The initial goal was to keep going for fifty days, but almost immediately the results were too good to stop.
Fast forward 600+ days, now, I have met with God every single day. Can I tell you? My life is a new creation, the old has passed and the new has come. I feel it.
I did not know fear controlled all of my decisions
until I started letting God and His Holy Spirit speak. 
Now when I am prompted to give, I give and it brings me peace.
Now when I am prompted to serve, I serve and it fills me with indescribable joy. 
Now when I am prompted to encourage another, I speak words of life over them and watch us both find our true identity in Christ. 
My journey is overflowing.  Each day, I ask God what He wants me to talk about and I post the words on Facebook.
The devotionals led to many friends encouraging me to write a book.
The book idea led to me thinking it was impossible but instead of choosing fear and worry I let God take the lead and show me the way. 
He led me to a website where I could easily publish an ebook. The ebook website led me to another site where I could self-publish an actual book, and that website led me to the next step (which I plan to take soon) of creating an audio book as well.
As you take it step-by-step by and through the Spirit,
you realize, nothing is impossible with God.
What seems impossible for you? 
Might you consider, what you can't do – the Holy Spirit might equip you to do? It happened with me.
Jesus' sacrifice for you and me, it was costly – on that cross. Please don't make His sacrifice for you a waste because you never take the next step and find personal freedom for yourself. 
Walk in. Step deeper.
I started the journey and it has led to the most peace, joy, hope, love and patience than I have ever known. Will you?
Get all Purposeful Faith blog posts by email – click here.
About Suzanne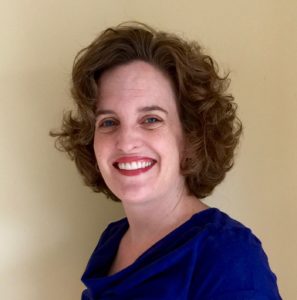 Suzanne is a wife mother and believer in Christ.  She has a passion and dedication to anything she puts her heart to; from early morning quiet times with God to training for five full marathons.  She learned about God on her second date with her future husband, Randy, when she was 22 years old.  She grew in her faith continually, but it wasn't until she learned why she really wanted to know God as her personal friend and confidant that she found out what it truly means to have faith in the one true King.  Suzanne's goal now is to show others how to find their why so that their lives can be as dramatically changed as hers was on August 11, 2014.
Check out Suzanne's book, To Show His Love: Fellowship with God Changes Everything.