Blog Post by Abby McDonald
"Don't ever say you're just a mom."
I spun around, startled at the realization that my conversation wasn't private. I was talking to the cashier at a local toy store about school and pursuing a career in writing. Both my boys were tiny at the time, and before I knew it the statement that I was "just a mom" spilled out of my mouth.
It wasn't that I didn't think mothering was important. It had more to do with other's perception. Or at least, that's what I thought.
When I turned I saw an older man standing there. He looked me square in the eye and said words I desperately needed to hear during that season.
"What you're doing is the most important job there is."
I nodded and thanked him, not sure what else to say. I was amazed at God's ability to use a complete stranger to encourage me during a time of my life when I felt lost and defeated. And in an instant, I knew I was where God wanted me. My doubt and apprehension was replaced with confidence and security.
But old habits have tendency to resurface, don't they?
Eventually, I had more time to devote to things I loved and opportunities knocked at my door. I was filled with gratitude and awe at how God was using me.
Encouragement from other strangers came. Strangers who eventually became friends and confidants. I linked arms with others who shared a passion for communicating a message and pointing others toward the hope of Christ through words and stories.
But before I realized what was happening, gratitude turned to comparison. Awe turned to impatience. My timeline and God's were not the same, and goals I thought would take months turned into years.
I fought for affirmation and approval. Sometimes it came, but when it didn't my security blanket was ripped off like a band-aid. Rejections stung. Silence and waiting stung even worse.
If we let others define who we are, our security will change like the rising tide.
We will constantly lower our buckets into the well of compliments and accolades until we hit the bottom. And one day, the bucket will come up empty. Our source of sustenance will be parched.
But you want to know the good news? There is Living Water. It never runs dry. And his definition of who we are? It never changes, once we've received Him.
Friends, we don't have to fight for our seat at his table.
"And God raised us up with Christ and seated us with him in the heavenly realms in Christ Jesus."

Ephesians 2:6 NIV
 Our status has nothing to do with our abilities, and everything to do with Christ's finished work. It is because of his grace and love for us that he allows us to participate with him in his divine work.
Perception changes everything. So the next time we're tempted to compare and fight for our seats at the table, let's remember this:
Christ's finished work = our eternal worth.
This world and the people in it do not determine who you are. The One who hung on a tree and paid a price more precious than pure gold does.
Never forget who claimed you as his. Take your seat, and remember your identity comes from him alone.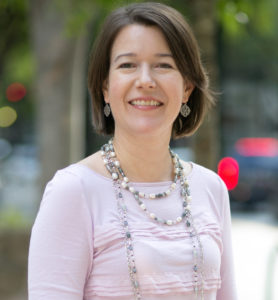 Abby McDonald is the mom of three, a wife and writer whose hope is show readers their identity is found in Christ alone, not the noise of the world. When she's not chasing their two boys or cuddling their newest sweet girl, you can find her drinking copious amounts of coffee while writing about her adventures on her blog. Abby would love to connect with you on her blog and her growing Facebook community.